Agency News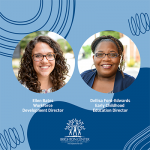 April 07, 2022
Recently, Ellen Bates, Workforce Development Director, and Dellisa Ford-Edwards, Early Childhood Education Director, had the opportunity to participate and lend their expertise as panelists on Leadership Northern Kentucky Education Day. Ellen and Dellisa shared the importance of education at all levels, from early childhood to post-secondary, and the overall workforce connection across the education continuum. We are lucky to have Ellen and Dellisa's leadership in our workforce development and early childhood education work!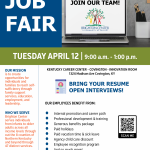 April 07, 2022
join an amazing team! #teambrightoncenter! Join us Tuesday, April 12 from 9:00 a.m. - 1:00 p.m. at The Kentucky Career Center-Northern KY in Covington to learn all about our employment opportunities, the incredible team you can be part of, and how we make a difference every day in the lives of others. View opportunities: Brightoncenter.com/careers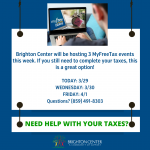 March 29, 2022
Brighton Center will be hosting 3 MyFreeTax events this week. If you still need to complete your taxes, this is a great option! MyFreeTax Events are self-help events. You will need to bring all tax documents and you will complete your taxes for free using the provided technology. You can even bring your own laptop!
VITA Volunteers and Brighton Center Staff will be onsite to assist with the MyFreeTaxes software and to answer any tax questions that may come up. Visit brightoncenter.com/vita for a list of tax documents needed.
Dates:
March 29, 2022: 12:30 pm - 5 pm
Kentucky Career Center 1324 Madison Ave, Covington, KY
Wednesday, March 30, 2022: 12 pm - 5 pm
City Heights Rec Hall 2500 Todd Street, Covington, KY
Friday, April 1, 2022: 12:30 pm - 3:30 pm
Center for Employment Training 601 Washington Ave, Newport, KY
This will include a 90-minute presentation about how to use MyFreeTaxes and Basic Tax Education.
The open session for MyFreeTaxes will begin at 2 PM until 3:30.
Use the list below to gather all the documents and forms you'll need to get started with Free Tax Prep. Any item with a star (*) is mandatory; without it, you will be unable to access Free Tax Prep. All other items are highly recommended. For a full list of documents required to file taxes visit the Checklist for Free Tax Return Preparation | Internal Revenue Service (IRS.gov).
Income information: All W-2, 1099 forms, and other information for income received in 2020 by you, spouse, and dependent(s). *
Photo identification for primary individual(s) filing the return (you/spouse). *
Social Security cards or Individual Taxpayer Identification Number cards for everyone listed on the return (you, spouse, and dependents or children). *
Birth dates of everyone listed on the return (you, spouse, and dependents or children). *
Last year's tax return.
Information about your stimulus payment — also known as an economic impact payment (EIP). You may have IRS Notice 1444 or other records showing your EIP amount.
Information about your Advanced Child Tax Credit payments. - IRS Letter 6419, Advance Child Tax Credit Reconciliation, if applicable
A canceled check or bank routing and account numbers for direct deposit. IRS recommends this to receive your refund as soon as possible.
Identity Protection PIN, if one has been issued to you, your spouse, or your dependents by the IRS.
Credit and deduction documentation.

Questions? Call (859) 491-8303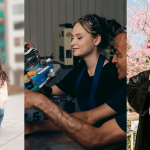 February 16, 2022
(Newport, Kentucky – January 18, 2022) Brighton Center's newest program, Opportunity House, is now accepting applications for young adults ages 18-24.
Opportunity House is an innovative project in Northern Kentucky to develop post-secondary educational opportunities and stable housing for these young adults 18-24, ultimately leading to educational success, employment, and self-sufficiency. Opportunity House will provide the support and pathway to labor market success for those who traditionally have experienced many barriers to complete education beyond high school and ensure they have a bright future and the best quality of life possible.
Continue reading »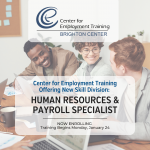 January 21, 2022
(Newport, Kentucky – January 18, 2022) Brighton Center's Center for Employment Training (CET) is excited to announce the launch of a Human Resources and Payroll Specialist skill division beginning Monday, January 24, 2022.
Continue reading »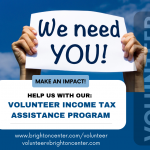 January 15, 2022
The 2022 tax season commences at the end of January, and Brighton Center in partnership with United Way of Greater Cincinnati needs your help! Not a tax expert? No problem! There are volunteer roles for all interests from customer service to administrative support or providing families with certified tax preparation services. Training and ongoing support are provided for each volunteer role.
Continue reading »
January 12, 2022
Recently, the Northern Kentucky Chamber's NKYP announced the 11 members of its Steering Committee for the 2021-22 fiscal year and our very own Workforce Development Director, Ellen Bates is on the Committee. Congratulations Ellen! Read more about the new Steering Committee members and how you can get involved in Northern Kentucky's young professional business community at https://app.cerkl.com/org/story.php?id=15075594
Continue reading »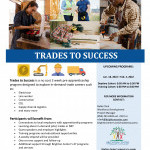 January 06, 2022
Trades to Success will host its next cohort beginning on January 18 and running through February 4. There will a daytime cohort and an evening cohort. The daytime cohort will run from 9:30 a.m. to 3:30 p.m. and the evening cohort will run from 6 p.m. to 8 p.m. Both cohorts will take place at Brighton Center's Center for Employment Training located at 601 Washington Ave, in Newport, Kentucky.
Continue reading »
January 04, 2022
We are so grateful for this amazing community of support. Through the generosity of so many donors, volunteers, and supporters, we were able to provide over 650 families, through our Annual Holiday Drive, with food and toys for the kids. Thank You to each and everyone who made this possible!
Continue reading »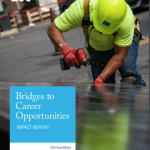 August 13, 2021
We are extremely thankful for LISC Greater Cincinnati and Citi Foundation their 3-year investment in pathways for upward mobility at our Center for Employment Training. Their recent impact report featured one of our Health Technology Administration trainees, Gloria. You can read all about it by clicking here
Continue reading »