Center Table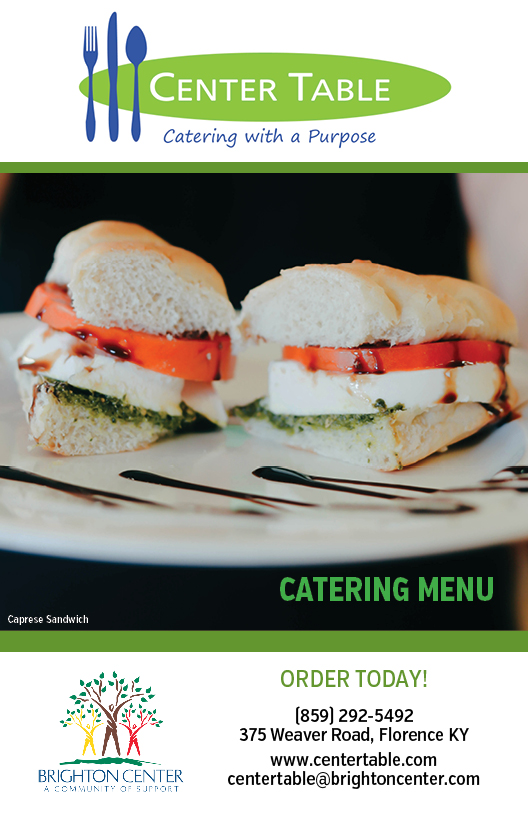 CENTER TABLE, Catering with a Purpose is a social enterprise catering company that uses fresh, seasonal ingredients to create delicious food for all occasions from the backyeard barbecues to business lunches and elegant celebrations. Profits from Center Table support women in recovery. At Brightone Recovery Center, residents learn culinary, catering and customer service skills that will ultimately lead to career opportunities in the hopitality industry. When you choose Center Table, you are supporting women in recovery.
CENTER TABLE's catering and culinary training program provides residents in Phases I and II of the Brighton Recovery Center with educational training and life skills, as well as food service curriculum in order to gain work in the food service industry after completion. Residents in the training program can begin in Phase I of the recovery component. The culinary training curriculum provides a full understanding of the food service industry, is designed for hands-on training, and includes food preparation and classroom participation totaling 34 hours a week for 6 – 10 weeks.
Provides life skills and food service education training to phase I and II residents
Provides unrestricted income to help support the operations of Brighton Recovery Center
Insures Brighton Recovery Center's ability to serve all eligible populations into the future
Why We Do It
CENTER TABLE, Catering With a Purpose was developed to support women in recovery on their journey to self-sufficiency by providing a way to gain skills for employment in the food industry. About 43% of women in the Brighton Recovery Center are able to obtain employment in the food service industry during Phase II and after graduation. For women re-entering the community, having a means of income to support themselves and their families is critical to overall recovery. CENTER TABLE, Catering with a Purpose is here to insure their careers in the industry are long and successful.
Additional Information
*CENTER TABLE must now charge a 6% Kentucky sales tax for each order, due to and in accordance with the new tax law changes the state of Kentucky has passed, effective July 1, 2018.
Catering Payment
* Required Field
Photo Gallery