Brighton Events

---
September 13, 2022 6:00 PM – 8:00 PM
As the saying goes — it takes a village to raise a child. Brighton Center is joining forces with the library to help make your village stronger.
Brighton Center will host a series of Parent Cafés at the Newport Branch from 6-8 pm on the second and fourth Tuesdays of the month, September through November.
The Brighton Center's Parent Cafés provide local caregivers with a space to connect and relax with other parents and guardians. Each Parent Café will help attendees gain more knowledge of child development while also building important skills for raising children.
Both the Brighton Center and the library want to make sure that the Parent Cafés are an enjoyable, informative and relaxing environment for attendees. Childcare will be provided by the Brighton Center. The library staff will also help to create crafts, activities and story times for kids to enjoy while the grownups are attending the program.
All Parent Cafés are free and open to the public. Please register to reserve your seats.
Full Details »
---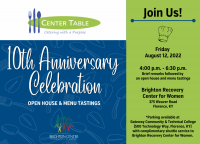 August 12, 2022 4:00 PM – 6:30 PM
About Center Table, Catering with a Purpose...
CENTER TABLE, Catering with a Purpose, is a social enterprise venture of Brighton Center led by residents of Brighton Recovery Center for Women. CENTER TABLE was developed to support women in recovery on their journey to self-sufficiency by providing a way to gain skills for employment. CENTER TABLE uses fresh, seasonal ingredients to create delicious food for all occasions from backyard barbecues to business lunches and elegant celebrations. As part of Brighton Recovery Center for Women, located in Florence, KY, all proceeds from catering go directly back to helping women overcome addiction.
CENTER TABLE's catering and culinary training program provides residents in Phases I and II of the Brighton Recovery Center with educational training and life skills, as well as food service curriculum in order to gain work in the food service industry after completion. The culinary training curriculum provides a full understanding of the food service industry and is designed for hands-on training.
About Brighton Recovery Center for Women...
Brighton Recovery Center for Women is a 100-bed facility located in Boone County that utilizes the recovery dynamics curriculum and is a peer-driven model of recovery. The program, which opened in 2008, helps women recover from chronic substance use disorder and addiction and move toward a life of sobriety and productivity. The focus is to help women change their behavior, skills, and attitudes. Brighton Recovery Center takes a long-term, holistic approach to recovery that is comprised of four distinct modules of progression and is ultimately connected to an array of Brighton Center services. On overage, women spend 9-12 months immersed in a supportive environment that holistically allows them to recover from the effects of addiction and rebuild their lives.
Full Details »
---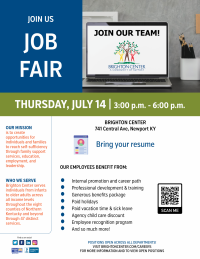 July 14, 2022 7:00 PM – 7:00 PM
Join us Thursday, July 14th from 3:00 PM - 6:00 PM at Brighton Center in Newport to learn all about our employment opportunities, the incredible team you can be part of, and how we make a difference every day in the lives of others. View opportunities: http://www.brightoncenter.com/careers
Full Details »
---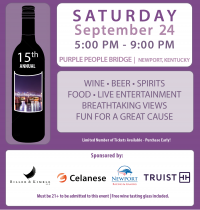 ---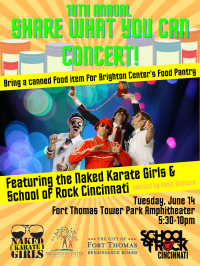 June 14, 2022 5:30 PM – 10:00 PM
Share What You Can is back and happening Tuesday, June 14th, 2022! Bring nonperishable food items and help restock our Food Pantry shelves, which greatly need replenishment as demand for food has increased.
Full Details »
---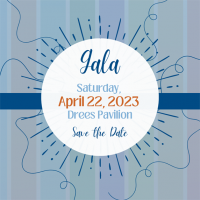 April 22, 2023 7:00 PM – 7:00 PM
Join us for a night of impact, as we celebrate YOU, our donors, supporters, staff, volunteers, and customers.
The night will feature a cocktail hour, live music, a silent auction, a full sit-down dinner, and stories of lives changed.
Interested in Becoming a Sponsor? Click Here or the image below.
Full Details »
---