Brighton Events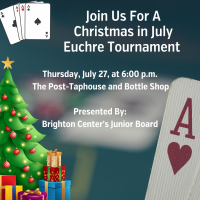 July 27, 2023 6:00 PM – 9:00 PM
It's never too early to think about the Holidays, and our Junior Board is doing just that! Join us for a Christmas in July Euchre Tournament to support families this holiday season. Our annual Holiday Drive supports hundreds of families within our programs with gifts and food during the holiday season. All proceeds from this event will be used to provide gifts to children from 0-17 and holiday meal baskets to families. We are grateful to The Post - Taphouse and Bottle Shop for hosting this event. Light bites will be provided.
Instead of a registration fee, we are asking participants and those who would like to spread joy to purchase from the list below.
We are hoping for this event specifically to collect gifts for children ages 0-12 months and 13-17 years old.
Gift Ideas for 0-12 Months
Gift Ideas for 13-17-Year-Olds

Board Books
interactive books
Touch and feel sensory books
Play Mats
Soft blocks
Sensory toys
Teether
Car seat/Stroller clip-on toys
Rattles
Musical Toys
Soft balls, Oballs
Pull toys
stacking rings
Activity cubes
Shape sorter

Drink Tumblers
Wall Collage Kits
Magnetic Dart Boards
Table Top Game Sets
Jewelry
Jewelry box/organier
Colorful Writing Pens
Fidget Toys
Drawstring bags
Wireless ear buds
Bluetooth Speakers
Perfume/Cologne Sets
Makeup
Hair Straighteners
Curling Irons
Hoodies for Boys – various sizes
Sports Apparel/Equipment
Full Details »
---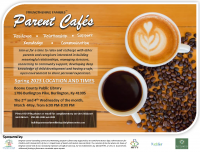 March 28, 2023 6:00 PM – 7:00 PM
As the saying goes — it takes a village to raise a child. Brighton Center is joining forces with the library to help make your village stronger.
Brighton Center will host a series of Parent Cafés at the Newport Branch from 6-8 pm on the second and fourth Tuesdays of the month, September through November.
The Brighton Center's Parent Cafés provide local caregivers with a space to connect and relax with other parents and guardians. Each Parent Café will help attendees gain more knowledge of child development while also building important skills for raising children.
Both the Brighton Center and the library want to make sure that the Parent Cafés are an enjoyable, informative and relaxing environment for attendees. Childcare will be provided by the Brighton Center. The library staff will also help to create crafts, activities and story times for kids to enjoy while the grownups are attending the program.
All Parent Cafés are free and open to the public. Please register to reserve your seats.
Full Details »
---
September 9, 2023 5:00 PM – 9:00 PM
Thank you to everyone who attended Wine Over Water in 2023! It was a perfect evening with delicious food and beverages and a fantastic crowd. Thank you for helping to support our mission of creating opportunities for individuals and families to reach self-sufficiency!
We hope you're already looking forward to Wine Over Water 2024! For information about sponsoring the event or offering delicious food and drinks to a fantastic crowd on the Purple People Bridge, please contact Brighton Center's development team: development@brightoncenter.com
Full Details »
---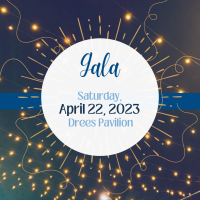 April 22, 2023 6:00 PM – 10:00 PM
Join us for a night of impact as we celebrate YOU, our donors, supporters, staff, volunteers, and customers.
The night will feature a cocktail hour, live music, a silent auction, a full sit-down dinner, and stories of lives changed.
Interested in Becoming a Sponsor? Click Here or the image below.
Full Details »
---