Northern Kentucky Scholar House
Paving The Way To A Brighter Future
Northern Kentucky Scholar house is part of a comprehensive statewide, two-generation self-sufficiency program that provides affordable housing, child development services, and case management support. Priority is given to single-parent families as they work to pursue a degree in higher education.
Northern Kentucky Scholar House, a partnership between Brighton Center and Neighborhood Foundations, is located at the corner of Sixth Street & Patterson Street in Newport, KY. The site houses 42 two-bedroom and 6 three-bedroom apartments and a high-quality child development center, Early Scholars Child Development Center, on the same campus.
While single parents are enrolled in Northern Kentucky Scholar House and attending school, supports are offered in:
Housing, where Section 8 subsidy will keep housing costs low for 48 apartments
Educational and economic support programs, where parents are connected with other existing economic supports, such as child care assistance, food stamps, work-study programs, financial aid, and provided life skills consisting of on-site workshops and activities that support parents in their roles as students, parents, heads of household, and future employees
On-site Child Care, where children from 6 weeks to school age receive care in an enriching environment (licensed and 5-STAR rated Center) while the parent is in school

Vision: Northern Kentucky Scholar House provides the support necessary for single parents to earn post-secondary education and achieve gainful employment leading to long-term self-sufficiency, and at the same time, their children receive quality child care to help them succeed in school and in life.
Am I eligible for the Northern Kentucky Scholar House Program?
Are you at least 18 years of age?
Are you a single parent with primary custody of your child/children?
Are you a full-time student or have been admitted for full-time enrollment in an approved post-secondary institution?
Are you willing to attend monthly life skills workshops and meetings to achieve your educational goals resulting in self-sufficiency?
Are you willing to enroll your Children under the age of 5 in Early Scholars Child Development Center?
Are you eligible for Section 8 subsidized housing?
Are you interested in achieving long-term self-sufficiency?
Why We Do It
Research suggests that post-secondary education is increasingly important to obtain a job that offers family-supporting wages, but significant challenges to college completion face students who are also parents. Research has also demonstrated a connection between maternal education and child outcomes. The two-generation approach of Scholar House invests in educational opportunities for both parents and children together, each reinforcing the other.
This model is a comprehensive, best-practice program committed to excellence and innovation. Northern Kentucky Scholar House was the 10th Scholar House project in the Commonwealth of Kentucky, with the founding program in Lexington. Kentucky Housing Corporation collects basic data on all the projects to track participation and results.
Become a NKY Scholar House Volunteer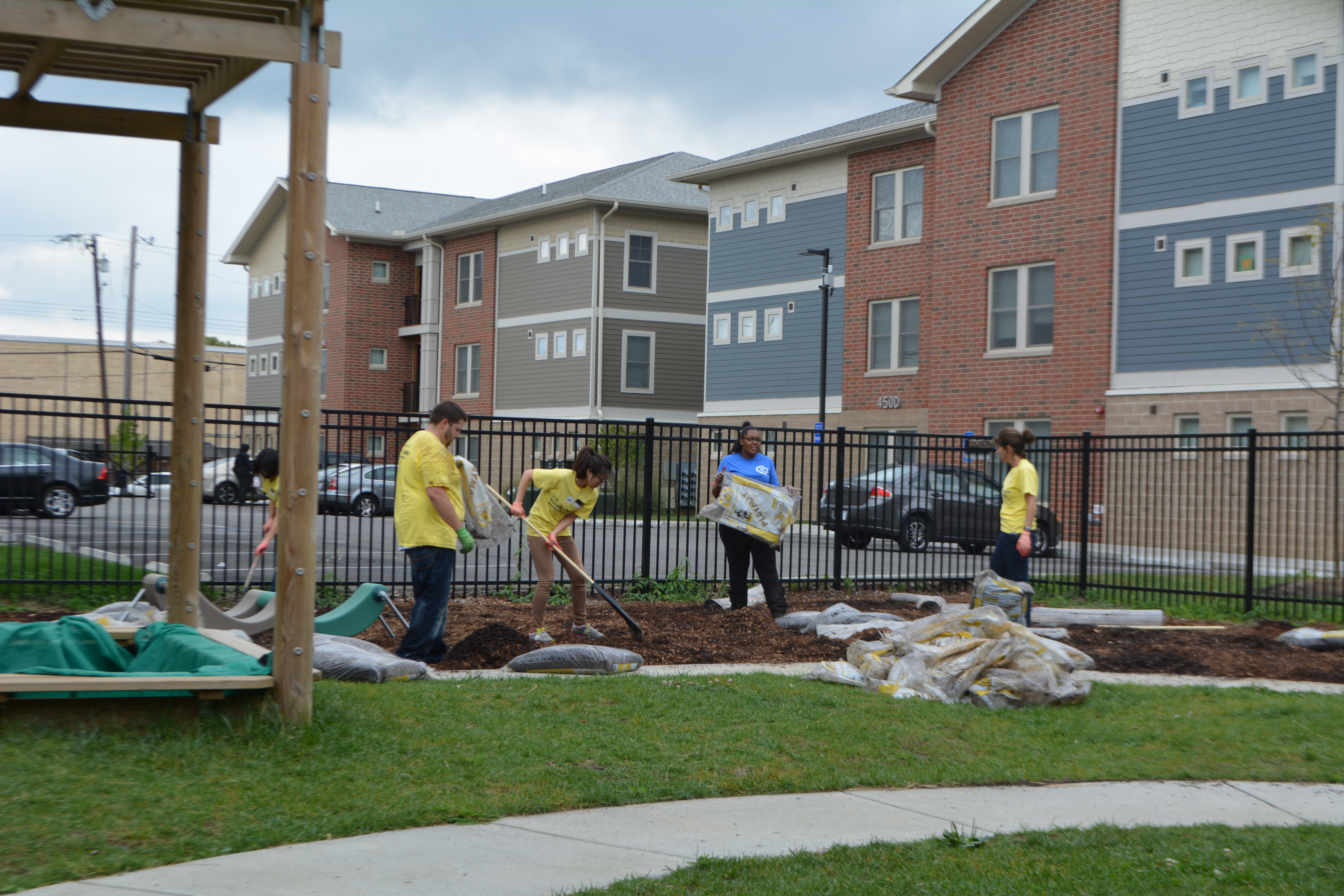 Passionate and dedicated volunteers are critical to the success of our program! You can make a difference in the lives of our families by dedicating your time, talents, and resources. We have plenty of volunteer opportunities for both one-time and ongoing volunteers.
Share your Skills:
What are you great at?
Organization? Reading to toddlers? Playing games with children? Leading Zumba?
Landscaping? Tutoring English or Math?
Whatever your passion, we have a volunteer position for you!
Organize a Donation Drive
Organize a Donation Drive at school, church, or work! We are always in need of hygiene items, feminine products, cleaning supplies, and household items. Check out our Amazon Wish List for other specific items we are in need of.
Prepare a Meal
Purchase, prepare and serve a meal for our families to enjoy during evenings when our parents attend life skills workshops. This is a great team-building service activity for corporations, faith communities, and community groups!
Frequency: We have workshops once a month at 6:00 p.m. Serve a meal once or many times; it's up to you!
Child Care
Do you love children? We're looking for experienced volunteers to help care for our children while parents attend life skills workshops.
Frequency: Weekday evenings several times a month from 5:30-8:30. We'll provide training to ensure a positive and meaningful experience, we ask that volunteers try to commit to volunteering for at least 6 sessions.
For more information, contact: volunteer@brightoncenter.com