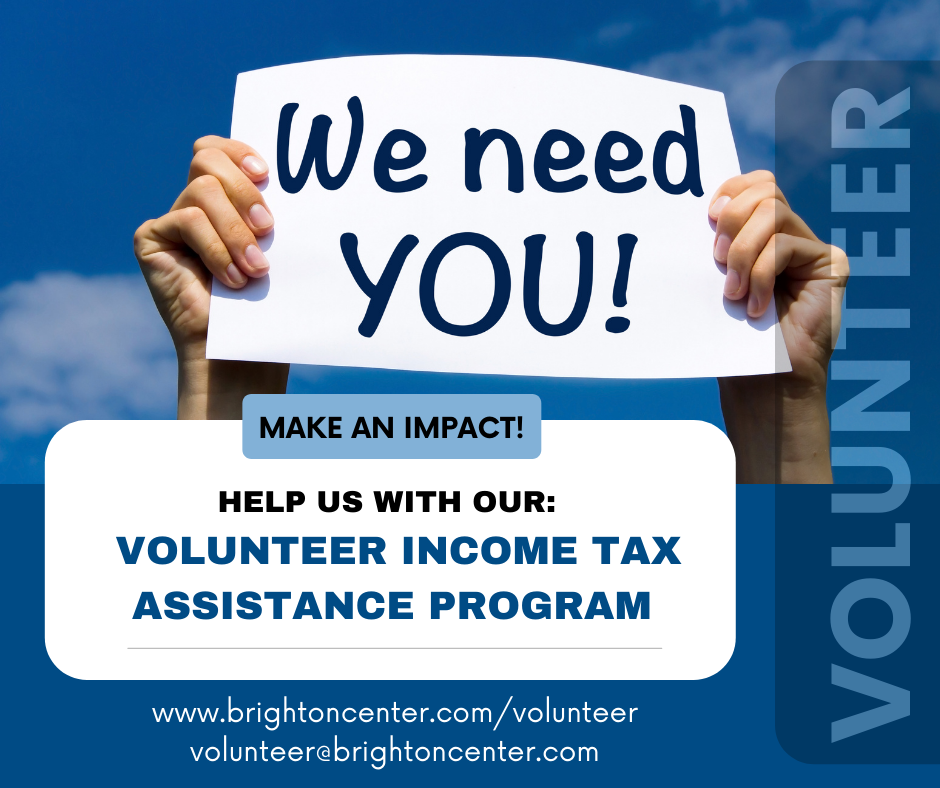 The 2022 tax season commences at the end of January, and Brighton Center in partnership with United Way of Greater Cincinnati needs your help! Not a tax expert? No problem! There are volunteer roles for all interests from customer service to administrative support or providing families with certified tax preparation services. Training and ongoing support are provided for each volunteer role.
2022 Brighton Center VITA Site Volunteer Roles:
GREETER: greet customers at the site, provide intake paperwork, schedule 2-week follow-up appointment and answer general questions.
PRE-SCREENER/DROP OFF COLLECTORS: verify the required documents taxpayers need to receive services, share general site information, and verify form paperwork has been completed.
ADMINISTRATIVE SUPPORT: answering and returning phone calls and providing support making copies, tracking returns throughout the process, and providing office support.
IRS CERTIFIED TAX PREPARER: provide basic and advanced tax preparation and participate in the quality review process to check returns prepared by other volunteer preparers. (Additional training is provided)
PICK-UP REVIEWER: greet customers returning to pick up their completed taxes, original forms and go over tax returns.
If you are interested in volunteering or have additional questions, please contact volunteer@brightoncenter.com
Brighton Center will operate "drop off only" sties in Newport and Florence, Kentucky. The goal is that tax returns will be ready for customers to pick up within two weeks of their scheduled drop-off appointment.
The VITA program offers free tax assistance to individuals who generally earn $64,000 annually or less, those with disabilities, and the elderly who need assistance in preparing their own tax returns. IRS-certified volunteers provide free basic income tax return preparation with electronic filing to qualified individuals.
Through VITA, each filer saves approximately $300 in prep fees. Tax professionals ensure those who qualify for the Earned Income Tax Credit receive their full refund.