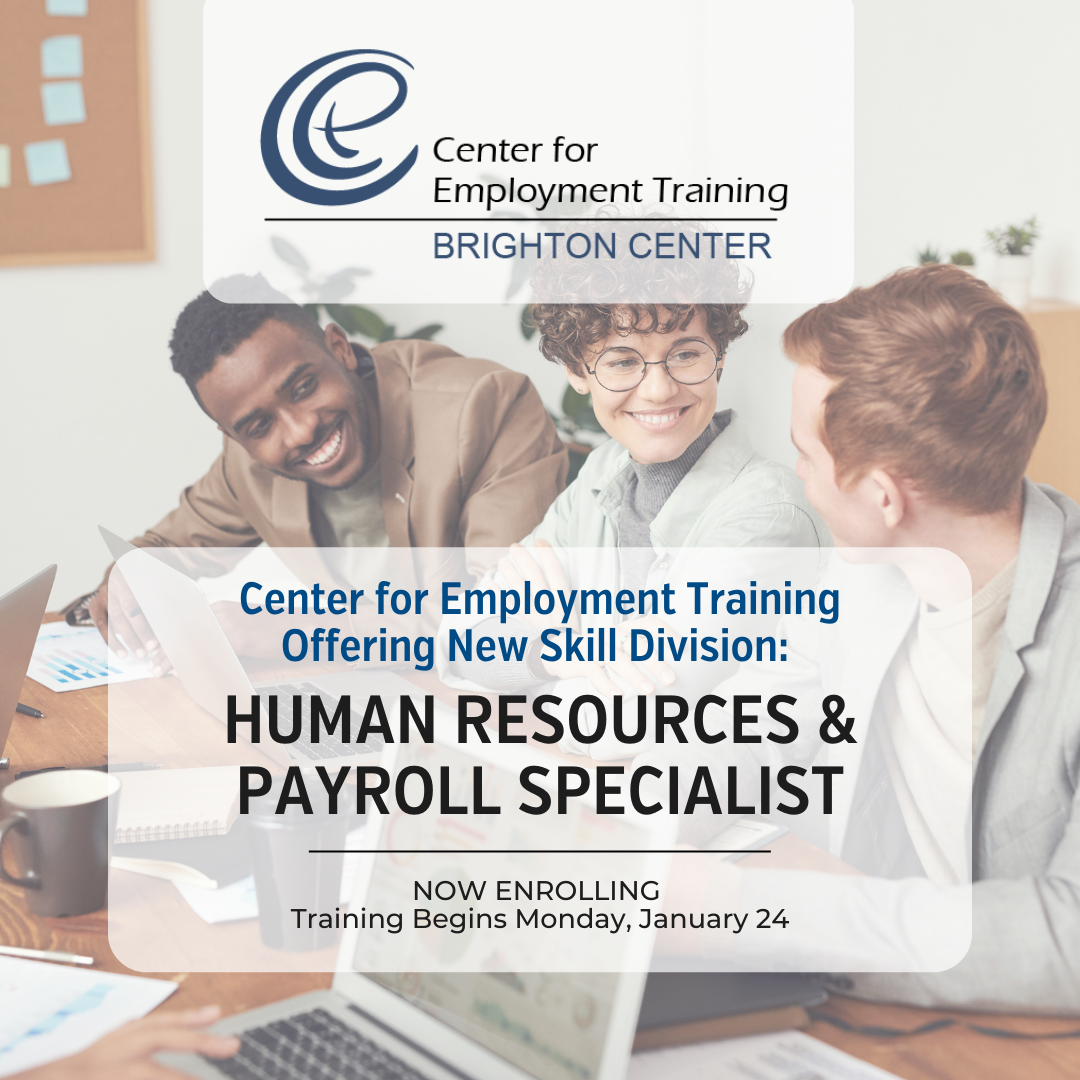 (Newport, Kentucky – January 18, 2022) Brighton Center's Center for Employment Training (CET) is excited to announce the launch of a Human Resources and Payroll Specialist skill division beginning Monday, January 24, 2022.

CET's new skill division is unique in offering training in both Human Resources and Payroll Specialist functions, creating vast opportunities and career pathways, particularly in small to medium-size businesses where the roles are often combined into one position. There is also a need for Human Resources and Payroll/Benefits Specialists across every industry, leading to a wide range of job opportunities. Starting wages in these positions typically range from $37,000 to $45,000 per year and offer ample opportunities for advancement.

Individuals who enroll will complete 900 hours of instruction over an average of 28 weeks. Individuals will gain such competencies as Human Resource Law & Regulations, Compensation & Benefits, and Payroll & Accounting. The Human Resources and Payroll Specialist program prepares individuals for Human Resources, Payroll Benefits, and Accounting positions. At the completion of the curriculum, individuals will be ready to take the Associate Professional in Human Resources (aPHR) through the Human Resources Certification Institute (HRCI).

CET creates a high-quality talent pipeline through accredited and nationally recognized job training. In addition to the new skill division, CET also offers debt-free training and a career pathway into Medical Assisting and Health Technology Administration.

Each skill division at CET is supported through a Technical Advisory Committee comprised of industry-specific individuals who meet multiple times a year to provide feedback, guidance, and curriculum updates based on current trends. This allows CET to be responsive to the needs of employers and provide updated training in real-time.

Individuals enrolled at CET learn in an environment that replicates the workplace as they gain job skills and industry-recognized credentials through hands-on instruction, practice, and application. Life-changing results are achieved as trainees gain technical job skills and build their soft skills, adult education skills, and job search readiness.

CET also creates opportunities for individuals to prepare for career success and stability by providing access to critical community supports such as food, child care, housing, on-site financial wellness coaching, and career coaching to place individuals on a path to employment. As a result, 80% of graduates obtain employment and see an average wage gain of over $28,000 annually. The training has been designed in close cooperation with local employers to ensure CET graduates enter the workforce in high demand with the skills needed for success.

Admission to CET is rolling, and individuals can begin at the start of each week. CET does not conduct testing as an enrollment requirement and offers financial aid, ensuring student loans do not burden individuals. Individuals without a high school diploma can prepare for the GED on-site. Training occurs Monday – Friday from 8:30 a.m. until 3:30 p.m. at 601 Washington Street Suite 140 in Newport, Kentucky.

If you are interested in learning more about Center for Employment Training and any of the skill divisions, Human Resources and Payroll Specialist, Medical Assisting or Health Technology Administration, please contact Kiara Johnson at kjohnson@brightoncenter.com. If you are a business interested in partnering with CET to offer externships and career pathways, please contact Robb Clark at rclark@brightoncenter.com.