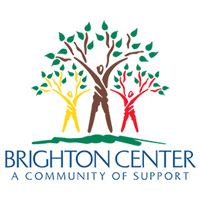 Brighton Center Receives Grants Totaling $4,500 from Three Local Walmart Stores
(Newport, Kentucky – February 14, 2023) Brighton Center, Inc. has received grants from Walmart stores in Alexandria, Florence, and Fort Wright. Each local Walmart store chooses which organizations to fund with their Walmart Community Grant, and all three Northern Kentucky Walmart store managers have selected Brighton Center. These grants will help fund Brighton Center's Emergency Assistance Food Pantry and Brighton Center's Neighborhood Community Garden.
Brighton Center operates a Food Pantry located in Newport, Kentucky. Customers can access the pantry during operating hours and choose the food and personal care items that are best for their families. During our last fiscal year, 5,643 individuals received food, diapers, personal care items, or other basic necessities from the Food Pantry to help stabilize a difficult situation.
Brighton Center is also home to the Neighborhood Community Garden. Located on Ann Street in Newport, Kentucky the Neighborhood Community Garden has 96 raised beds, allowing residents to increase their knowledge of ways to grow food and cook nutritious meals. In addition to growing the traditional tomatoes, cucumbers, and green beans, residents also enjoy growing different kinds of squash, greens, herbs, beets, onions, okra, and zucchini while learning how to expand the growing season by planting both cool weather and summer crops.
Brighton Center's Food Pantry is often the first step in a customer's journey to reach self-sufficiency. Once those immediate basic needs are met, Brighton Center staff work with individuals and families to identify their hopes and dreams and make steps toward achieving them.
"Brighton Center has a long history of working with other community partners to meet the needs of the individuals and families we serve in our community. We are pleased to be a part of Walmart's Feeding America initiative, which will allow us to continue to provide critical access to food resources to our families, which is an essential basic need" said Wonda Winkler, President & CEO.
To learn more about Brighton Center, our Food Pantry, and Neighborhood Community Garden, please visit www.brightoncenter.com.
About Brighton Center
The mission of Brighton Center, Inc. is to create opportunities for individuals and families to reach self-sufficiency through family support services, education, employment, and leadership. We will achieve this mission by creating an environment that rewards excellence and innovation, encourages mutual respect, and maximizes resources. Brighton Center impacts the lives of thousands of individuals from infants to older adults through 48 programs across all of Northern Kentucky and beyond.
About Walmart
Walmart Inc. (NYSE: WMT) helps people around the world save money and live better - anytime and anywhere - in retail stores, online, and through their mobile devices. Each week, approximately 230 million customers and members visit more than 10,500 stores and numerous eCommerce websites under 46 banners in 24 countries. With fiscal year 2022 revenue of $573 billion, Walmart employs approximately 2.3 million associates worldwide. Walmart continues to be a leader in sustainability, corporate philanthropy and employment opportunity.
###