Blog Posts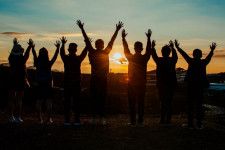 February 26, 2019
Youth Homelessness.

It's one of those phrases that seems almost hard to believe actually exists. And yet, it does, and the numbers are staggering.

Kentucky leads the U.S. in the rate of child homelessness based on 2016-17 data
28,650 children, nearly 7% of the state's public school students, are living in a homeless shelter, motel or campground, car, outside, or staying with relatives or friends
5,964 or 21% of these youth are in Northern Kentucky
Since 1983 Brighton Center has run the only 24/7 homeless shelter in Northern Kentucky, Homeward Bound, for teens ages 11-17. The shelter provides immediate access to a safe place for teens along with basic necessities, counseling, therapy, life skills, and support in finding a safe living arrangement.
Our Impact Last Year
370 homeless and runaway youth received crisis services and 84 were served residentially
286 youth received crisis intervention services through the hotline or accessing shelter for non-residential services
94% of runaway and homeless youth received exit counseling to ensure safe living arrangements
93% of youth admitted to shelter care remained in their home school

You can help support these teens and our Homeward Bound Shelter by attending Mardi Gras for Homeless Children on Tuesday, March 5, which is the only annual fundraiser that supports the shelter. You can also visit our Amazon wishlist here to purchase needed items.