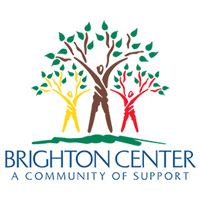 Fidelity Employees Direct Grant Funding and Volunteer Engagement to Brighton Center this Holiday Season
(Newport, Kentucky – February 14, 2023) Brighton Center was nominated by Fidelity employees to receive a $10,000 grant.
Fidelity has launched an employee-led grantmaking program called Your Choice, which gives Fidelity employees an opportunity to nominate a nonprofit in their community that they are passionate about. The Northern Kentucky/Greater Cincinnati region of Fidelity employees selected Brighton Center as the recipient of this associate-led grant.
In addition to the grant, employees from Fidelity volunteered to support Brighton Center's annual Holiday Drive, a 10-day food and toy distribution event for individuals and families engaged with Brighton Center programs. Employees from Fidelity volunteered 8 of the 10 days, for a total of 219 volunteer hours.
Fidelity has been a true community partner to Brighton Center for years through funding projects, volunteering countless hours for our daily operations, special projects, and holiday drives, as well as being an important employer for our customers by hosting career fairs and hiring events. Fidelity and their employees have shown dedication to Brighton Center's mission of helping individuals and families reach self-sufficiency.
"Fidelity is an amazing community partner. They understand the importance of leadership and social responsibility and are always modeling the way. We are deeply grateful for their continued support," said Wonda Winkler, President & CEO.
"Now more than ever, Fidelity remains committed to being well-connected to the communities and nonprofit organizations that are responding to ongoing, systemic challenges. Our work is grounded in authentically partnering with communities that know best what their needs are and building trusted relationships with nonprofits based on transparency and mutual learning," said Andrea Behanan, Manager, Community Relations Fidelity.
About Brighton Center
The mission of Brighton Center, Inc. is to create opportunities for individuals and families to reach self-sufficiency through family support services, education, employment, and leadership. We will achieve this mission by creating an environment that rewards excellence and innovation, encourages mutual respect, and maximizes resources. Brighton Center impacts the lives of thousands of individuals, from infants to older adults, through 48 programs across all of Northern Kentucky and beyond.
About Fidelity Investments
About Fidelity Investments Fidelity's mission is to inspire better futures and deliver better outcomes for the customers and businesses we serve. With assets under administration of $9.6 trillion, including discretionary assets of $3.6 trillion as of September 30, 2022, we focus on meeting the unique needs of a diverse set of customers. Privately held for over 75 years, Fidelity employs more than 60,000 associates who are focused on the long-term success of our customers.
###