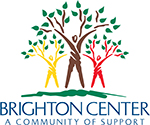 FOR IMMEDIATE RELEASE
Early Scholars Child Development Center gets coveted 5-Star rating
Brighton Center's Early Scholars Child Development Center has obtained a 5-Star rating awarded from Kentucky All Stars. Early Scholars is the on-site child development center at Northern Kentucky Scholar House in Newport.
Kentucky All Stars is a quality rating and improvement system serving all early child care and education programs that receive public funding in the state. Early Scholars received the highest rating obtainable through exceptional standards met by early childhood care and education programs.
"Being a 5 STAR center is a rewarding accomplishment for all of us here at Early Scholars. We strive every day to provide the absolute best quality early education and care for each child," said Kate Tinch, Northern Kentucky Scholar House Coordinator.

The rating system ensures the program provides and implements family engagement opportunities, experience and education for all staff, execution of a curriculum to provide a holistic education, and leadership practices for the whole family. This qualification system is developed to give parents confidence in seeking out child care settings outside the home.
The 5-Star scale focuses on the strengths of the program and the actions taken to provide the best education for their children and families.
"We reach these standards by nurturing not only the children's minds, but also their social-emotional well-being. In addition, incorporating the parents and utilizing their strengths through opportunities that the entire family can take part in to learn and grow together," said Tinch.
Northern Kentucky Scholar House is part of a comprehensive statewide, two-generational self-sufficiency program for single parent families. The program strives to support single parents enrolled in post-secondary education on their journey to self-sufficiency. Northern Kentucky Scholar House is a partnership with Neighborhood Foundations and includes 42-two bedroom and six-three bedroom apartments with an on-site high quality child development center.
Brighton Center manages the education component of the program and Early Scholars Child Development Center.
Early Scholars Child Development Center serves children of parents enrolled at Northern Kentucky Scholar House from six weeks to 12-years-old. The Center features spacious, developmentally appropriate classrooms with individualized instruction and nutritious meals daily. Children also benefit from ongoing development assessments and a partnership with the local school district.
About Brighton Center
The mission of Brighton Center, Inc. is to create opportunities for individuals and families to reach self-sufficiency through family support services, education, employment, and leadership. We will achieve this mission by creating an environment that rewards excellence and innovation, encourages mutual respect and maximizes resources.
During our last fiscal year, Brighton Center impacted the lives of over 44,049 individuals from infants to senior citizens through 39 programs across all eight counties of Northern Kentucky and beyond.