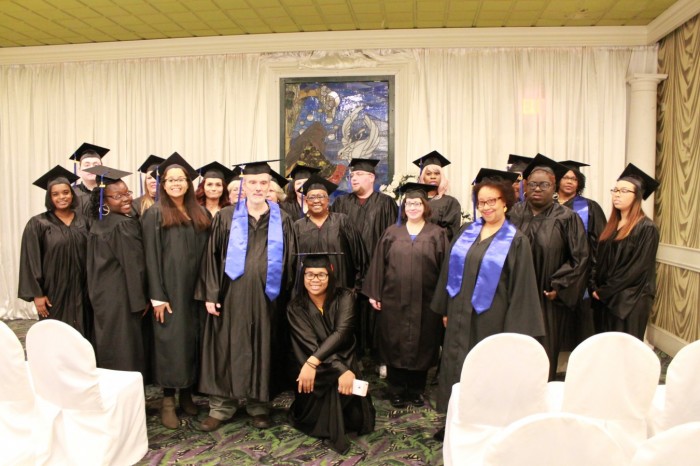 On Thursday, November 15, 2018, Brighton Center's Center for Employment Training (CET) celebrated the 27 member fall 2018 graduating class. This graduation marks a milestone in welcoming the first graduates from the Health Technologies Administration (HTA) skill division.
On December 5, 2017, The Council on Occupational Education (COE) granted approval for the addition of HTA to Brighton Center's job training facility. HTA trainees learn to work in the administrative medical office facility.
The trainees utilize medical terminology, procedural codes, and diagnostic codes to navigate various systems and appropriately communicate health and finance information. The instructional team focuses on helping trainees' master Microsoft applications, electronic medical records, medical terminology, anatomy & physiology, billing, coding and other concepts that will support them as they grow professionally.
Trainees completing the course will meet the standards and qualifications needed to pass a certification examination through the American Academy of Professional Coders (AAPC). Additionally they may become a Certified Professional Coder-Apprentice (CPC-A), or the National Health Association (NHA) and may become certified as an Electronic Health Record Specialist (CEHRS), Certified Medical Administrative Assistant (CMAA), or Certified Billing and Coding Specialist (CBCS).
HTA fosters and promotes best practices in customer service and leadership in the field of Healthcare Administration and Healthcare Technology. Trainees receive training delivered through lecture, visual, and demonstrative learning….such as a "Mock Office" setting that integrates learning in administrative office duties, triage, billing, coding, and health information management.
In addition to the HTA trainees who participated in graduation, Brighton Center also celebrated the accomplishments of graduates in Business & Computer Technologies, Medical Assisting, and GED attainment. Since opening in 2007, 1,110 individuals have graduated from CET.
Brighton Center's CET provides training in high demand industry sectors that offer the opportunity for career advancement. Their approach is supported by the 2020 Jobs Outlook Regional Indicators report which states, "Among jobs paying $33,130 or more, 92% will require some combination of post­secondary education, on-the-job training, and/or work experience beyond one year."
CET's high-level results are achieved by braiding four cornerstones which include Skill Training, Adult Education, Success Skills, and Career Coaching. All instruction is achieved with hands-on, self-paced training (utilizing contextual learning) that simulates work environments, and integrates valuable project-based learning. The experiential approach is not just limited to the on-site skill division, they partner with businesses that offer over 25 externship sites. CET takes a holistic view of those they serve…they bundle workforce development, financial services, and family and work supports to assist individuals in achieving higher rates of employment, retention, and earnings; increased occupational skill attainment; improved workforce quality; and realize reduced dependence. The goal is to assist individuals and families with achieving self-sufficiency.
Enrollment at Brighton Center's CET is a wonderful option for job seekers who are eligible for Workforce Innovation and Opportunity Act (WIOA) funds to help support their career training goals. To learn more about WIOA eligibility, individuals are encouraged to connect with one of our four local Kentucky Career Centers.
CET is located at 601 Washington Avenue, Suite 140, Newport, KY 41071. For more information, visit the website at www.bccet.edu.