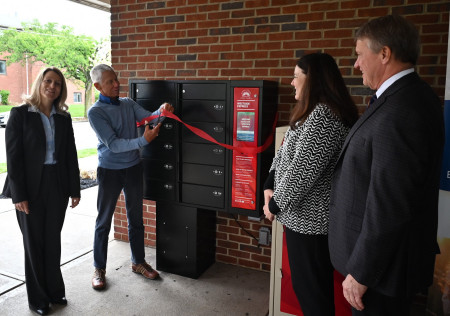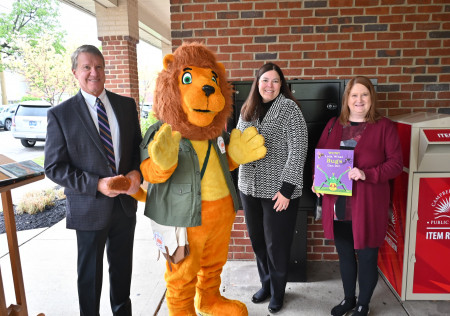 We are so grateful that the Campbell County Library, with the support of Tom Jones, was able to make the Westside Express a reality right here in the West End of Newport.
Brighton Center was founded in the West End of Newport in 1966 because of our deep belief in the potential of people to be financially stable, independent, and have the best quality of life possible. Over the years, we have grown to offer close to 50 programs and services to support individuals and families on their journey to self-sufficiency.
It is fitting that the Westside Express is located on-site at Northern Kentucky Scholar House, a partnership between Brighton Center and Neighborhood Foundations, to support single parents enrolled in post-secondary education who have young children. Also onsite is Early Scholars Child Development Center, a 5 STAR Rated child development center serving children 6 weeks to 5 years of age that Brighton Center operates.
"As an organization, we are deeply committed to providing individuals and families a pathway to education. We know what a critical role literacy plays on that pathway, and access to books is pivotal on that journey. Having the Westside Express on-site increases access for individuals who reside not only at Northern Kentucky Scholar House but residents at our senior living facility, Two Rivers, along with all those who call the west end of Newport home," said Wonda Winkler, President & CEO.
"We are grateful for the long-standing partnership that Brighton Center has had with the Campbell County Public Library, and this Westside Express is a prime example of that partnership. We are truly grateful to be a part of this celebration and the important role that it will play in the lives of families in our community."

Campbell County Public Library Press Release:
Library Welcomes New Express Location, Expands Alexandria Branch's Hours
Spring means new additions to the library! Along with expanding the Alexandria Branch's hours, the Campbell County Public Library recently welcomed a new location for patrons to pick up and drop off requested items: The Westside Express. Located at the Northern Kentucky Scholar House, the new express kiosk was introduced via a ribbon cutting ceremony on April 28.
Patrons can request that materials be sent to the Westside Express location on CCPL's website, app or by calling any branch. Library items are delivered and picked up on Tuesday, Thursday and Saturday. Once ready, head to the location and pick up your requested items.
"The Westside Express will allow even more residents of Campbell County to access the library's large collection of materials," says Campbell County Judge Executive Steve Pendery. "We are so fortunate to have a location for residents on the west side of Newport to pick up books, movies, magazines and more."
The Westside Express location joins the Silver Grove and Melbourne Express units. Since being introduced in 2017, the Silver Grove and Melbourne Express have been used 23,000 times.
All units now have touch screens. Upon arrival, patrons can follow the onscreen prompts to secure their items. Items can be returned in the designated bins at the express units or at any branch.
The Westside Express is located at 402 W. Sixth St. while the Silver Grove Express is at 5011 Four Mile Road and the Melbourne Express is at 1402 Mary Ingles Highway.
Expanded Alexandria Hours
Starting May 1, the Alexandria Branch will run on new hours. The branch will now be open seven days a week. That means there are two new days patrons can drop by the branch. (The location was previously closed on Sundays and Mondays.)
The expanded hours are as follows:
Monday-Friday: 11 am - 7 pm
Saturday: 11 am - 5 pm
Sunday: 1-5 pm
The library is proud to offer more time for patrons to visit the Alexandria Branch to browse its collection, get studying or work done or use its many valuable services.
For the Cold Spring, Carrico/Fort Thomas and Newport Branch hours, visit www.cc-pl.org.
***
ABOUT CAMPBELL COUNTY PUBLIC LIBRARY
The Campbell County Public Library operates four branches. The Cold Spring Branch is located at 3920 Alexandria Pike in Cold Spring, phone 859-781-6166. The Carrico/Fort Thomas Branch is located at 1000 Highland Ave. in Fort Thomas, phone 859-572-5033. The Newport Branch is located at 901 E. Sixth St. in Newport, phone 859-572- 5035. The Alexandria Branch is located at 8333 Alexandria Pike in Alexandria, phone 859-572-7463. Express locations for pickups and returns are located in Silver Grove, Melbourne and Newport. The website address is www.cc-pl.org.