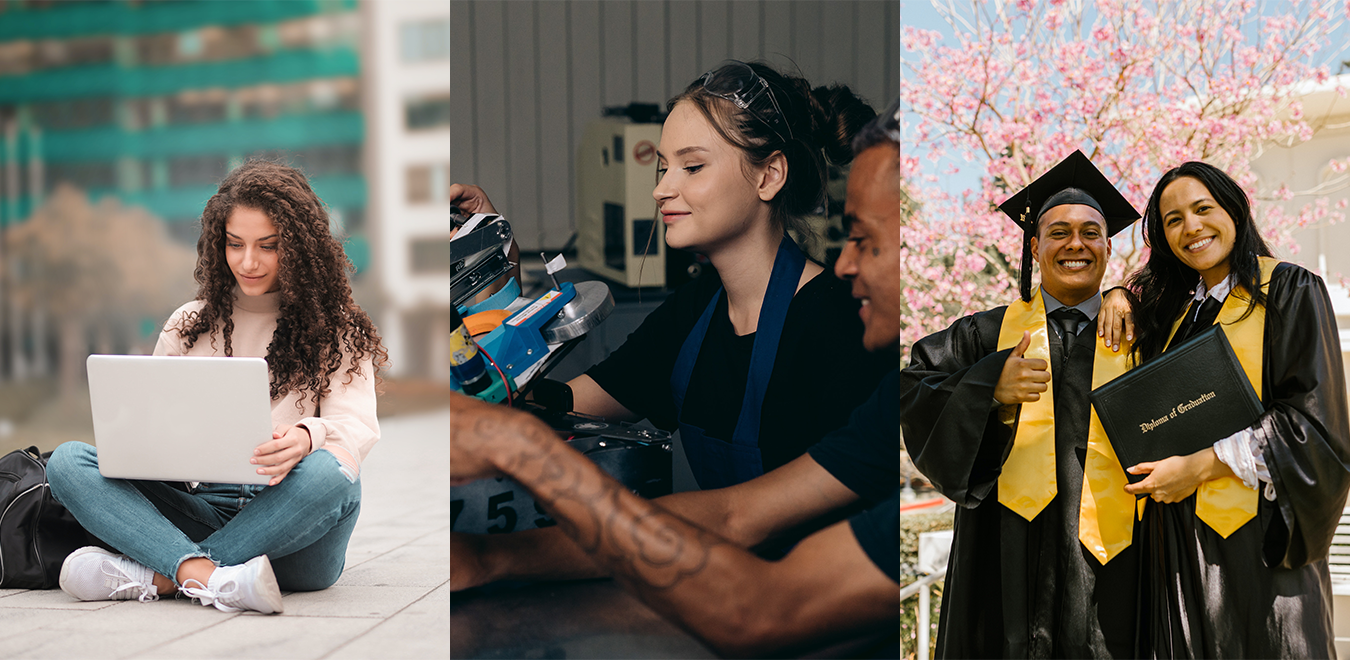 (Newport, Kentucky – January 18, 2022) Brighton Center's newest program, Opportunity House, is now accepting applications for young adults ages 18-24.
Opportunity House is an innovative project in Northern Kentucky to develop post-secondary educational opportunities and stable housing for these young adults 18-24, ultimately leading to educational success, employment, and self-sufficiency. Opportunity House will provide the support and pathway to labor market success for those who traditionally have experienced many barriers to complete education beyond high school and ensure they have a bright future and the best quality of life possible.
Youth in Northern Kentucky travel along many paths during their transition to adulthood. For some, the road is relatively smooth and direct, and others face a more difficult path. Many of these young adults feel post-secondary goals are out of reach. This can be especially true for young adults aging out of state's care, foster care, or those with similar life experiences. They often need additional and ongoing support to navigate post-secondary educational opportunities while stabilizing their situation. By providing access to affordable housing, and support services, Opportunity House eliminates many barriers young adults face in reaching their academic, career, and financial dreams.
The project entails developing 15 efficiencies and 1 one-bedroom apartment on Northern Kentucky University's campus with individual bathrooms and kitchenettes. In addition, there will be a large group room, classroom, full kitchen, and small meeting rooms.
Criteria for young adults to apply and enroll:
· Must be pursuing, or accepted, or enrolled (at least part-time) at an approved or accredited post-secondary institution *
o A certificate program, two-year certificate or degree program, or undergraduate degree
· Must be unmarried without children
· Maintain a 2.0 GPA
· Already have a High School Diploma or GED
· At least 18 years of age and up to 24 at the time of enrollment
· Obtain and maintain part-time employment (10 hours minimum a week)
· Regularly attend life skills workshops and meetings with a Case Manager
· Must meet income eligibility for Section 8 housing and not have a felony conviction
· Complete full program application and interview process
* Support can be provided with the post-secondary application process if requested. Full post-secondary acceptance is required before enrollment in Opportunity House.
Opportunity House is located at 3530 Alexandria Pike, Highland Heights, Kentucky, within the footprint of NKU. This allows for ease of attending class, tutoring, participating in NKU activities and clubs, and fostering a positive social/emotional environment.
Many of the young adults in this program will be first-generation college students. They have hopes and dreams but may be unable to find a way to achieve their goals. These young adults may be on their own and often have little to no adult support or guidance. They need to know that they have a place to live, and their basic needs are met, to dedicate the necessary time and effort to be successful in their pursuit of post-secondary degree attainment. This program will allow them to live with peers who have similar life experiences while receiving ongoing support.
Brighton Center is committed to providing comprehensive and holistic support to each young adult served by Opportunity House. A Licensed Therapist will complete assessments to ensure that each young adult served is prepared to commit to their education. An on-site, full-time Case Manager will work closely with each young adult to develop a goal plan that includes school, work, and life skills. Each young adult will benefit from integrated services specific to meeting their needs. Typical services will include financial coaching, job development, and life skills such as cooking, cleaning, budgeting, soft job skills, and problem-solving. The Case Manager will work with the young adults to ensure that they have what is needed for education applications and assist them in navigating the process.
For more information, please visit www.brightoncenter.com/opportunityhouse or email opportunityhouse@brightoncenter.com
About Brighton Center
The mission of Brighton Center, Inc. is to create opportunities for individuals and families to reach self-sufficiency through family support services, education, employment, and leadership. We will achieve this mission by creating an environment that rewards excellence and innovation, encourages mutual respect, and maximizes resources. Brighton Center impacts the lives of thousands of individuals from infants to older adults through 47 programs across all of Northern Kentucky and beyond.