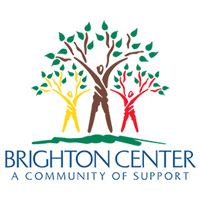 Brighton Center Receives $250,000 Donation from Carol Ann and Ralph V. Haile, Jr. Foundation to Assist Displaced Residents in Newport and Covington
(Newport, Kentucky – February 14, 2023) Brighton Center, Inc. received a donation from Carol Ann and Ralph V. Haile, Jr. Foundation to assist displaced residents in Newport and Covington. Brighton Center, along with several other local Safety Net Alliance of Northern Kentucky provider agencies, has been assisting families who have been displaced from their homes to navigate their sudden need for relocation. Families that are displaced do not have the disposable income to cover unplanned moving expenses as they are often living paycheck to paycheck.
Residents at Victoria Square Apartments, one of Newport's last housing communities with affordable rates, were given notices to vacate this summer, with very little time to identify alternate housing. Current residents, many of whom have called Victoria Square home for decades, have been unable to find nearby housing, and when they do it is close to double what they were currently paying. With the recent closure of City Heights in Covington, the area has experienced an increase in individuals being displaced with nowhere to turn. Within the past year, Northern Kentucky has lost more than 800 housing units that are affordable and attainable for working families.
"Our community has an urgent need for housing that is available at rents that families with low to moderate incomes can afford. When already scarce housing is removed from the market, it impacts families in the most devastating way. They lose their home and have few options they can afford. And the community loses neighbors, history, and culture. Many households are rent burdened as they are paying more than 30% of their income on housing, and this is anticipated to increase given inflation. We are so grateful to the Carol Ann and Ralph V. Haile, Jr. Foundation for their continued responsiveness to the needs of our community," said Wonda Winkler, President & CEO of Brighton Center.
Brighton Center and other Safety Net Alliance of Northern Kentucky partner agencies have been assisting displaced residents in Newport and Covington with housing searches, application fees, deposits, first month's rent, storage rental, utility bills, and other unexpected moving costs that could otherwise result in instability of their housing and safety. This generous gift from the Carol Ann and Ralph V. Haile, Jr. Foundation is helping to ensure individuals and families have access to the financial resources they may need to help during this transition. "The Haile Foundation recognizes the significance and importance of the emerging need for affordable housing and supports Brighton Center and our partners in Northern Kentucky in this mission," said Christine Bochenek, Vice President, and Senior Program Manager from The Haile Foundation.
We know this is going to require a community response to address the need for housing that is attainable and at 30% of family's income in our region. We are grateful to Carol Ann and Ralph V. Haile, Jr. Foundation for leading that response, as well as to the numerous organizations who have been assisting the impacted families. We continue to look for landlords and property managers in the region to join us in being a part of the solution. If you are interested in learning more, please contact ebates@brightoncenter.com.
For more information about Brighton Center and the 48 programs that make up Brighton Center's Community of Support, please visit http://www.brightoncenter.com.
About Brighton Center
The mission of Brighton Center, Inc. is to create opportunities for individuals and families to reach self-sufficiency through family support services, education, employment, and leadership. We will achieve this mission by creating an environment that rewards excellence and innovation, encourages mutual respect, and maximizes resources. Brighton Center impacts the lives of thousands of individuals from infants to older adults through 48 programs across all of Northern Kentucky and beyond.
About Carol Ann and Ralph V. Haile, Jr. Foundation
Carol Ann and Ralph V. Haile, Jr. Foundation is an independent family foundation dedicated to enhancing the quality of life for residents in our region. We concentrate our efforts and resources in areas about which Carol and Ralph were most passionate: Arts and Culture, Community Development, Education, and Human Services. In collaboration with our region's stakeholders, we help lead the way to a strong and vibrant community across ten counties in Ohio, Kentucky, and Indiana. For more information visit www.hailefoundation.org.
###