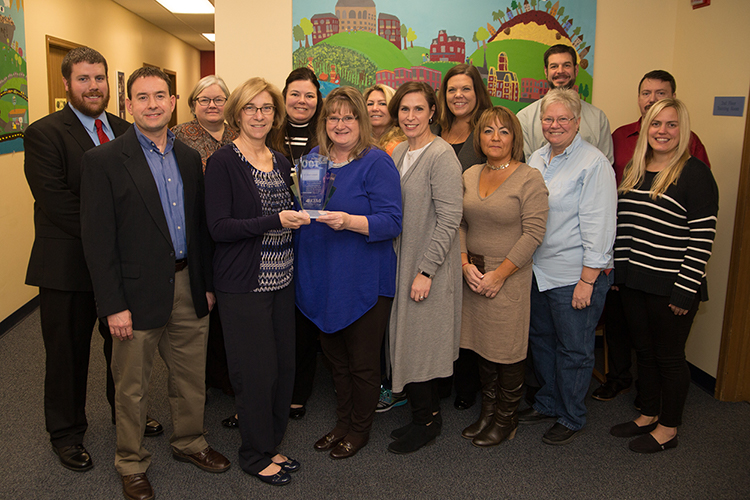 Brighton Center was recognized by Kentucky Employers' Mutual Insurance (KEMI) as a Destiny Award winner for their commitment and success in maintaining a safe workplace.
The Destiny Awards are presented annually by KEMI to policyholders that best exemplify KEMI's motto, "Control your own destiny." The awards symbolize what can be accomplished when organizations work together to improve workplace safety.
Policyholders who earn the KEMI Destiny Award effectively demonstrate to KEMI their ability to manage a formal safety program, provide on-site training and regular safety meetings for employees, and display an ongoing commitment to safety from all levels throughout their organizations.

"Brighton Center's culture is surrounded by safety," said June Miller, Chief Financial Officer for Brighton Center. "We are committed to ensuring that our operations ensure the health and safety of our employees, visitors, and customers. We train our employees that it is everyone's responsibility to maintain an environment that promotes health and safety, and we've seen tremendous decreases in claim numbers in recent years because of our proactive efforts."

Out of the 24,000 policyholders insured by KEMI, Brighton Center was one of only 14 organizations to earn the KEMI Destiny Award.

About Brighton Center:
The mission of Brighton Center, Inc. is to create opportunities for individuals and families to reach self-sufficiency through family support services, education, employment, and leadership. We will achieve this mission by creating an environment that rewards excellence and innovation, encourages mutual respect and maximizes resources.

During our last fiscal year, Brighton Center impacted the lives of over 44,049 individuals from infants to senior citizens through 39 programs across all eight counties of Northern Kentucky and beyond.

About KEMI:
KEMI is Kentucky's largest provider of workers' compensation insurance with more than 24,000 policyholders in 120 counties throughout the state.