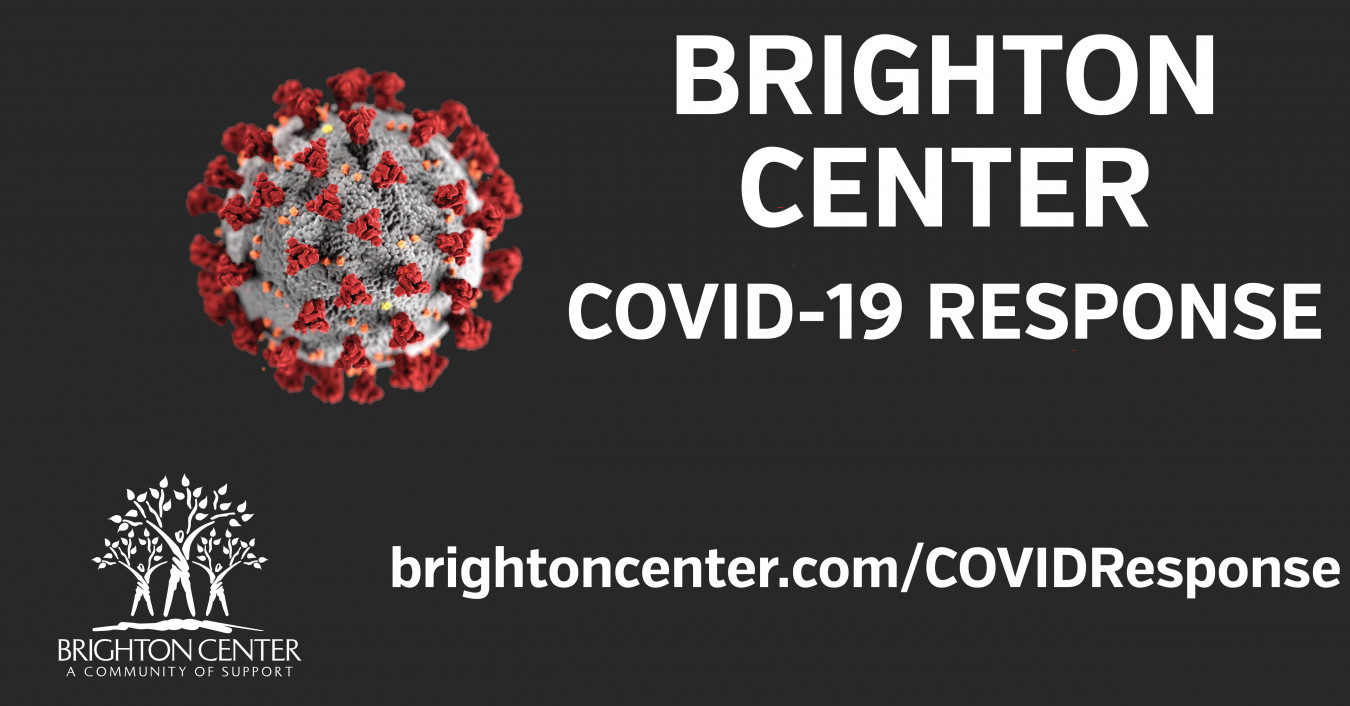 In response to the current COVID-19 (Coronavirus) outbreak: Brighton Center is committed to providing essential services to the community. The health and safety of our staff, customers, volunteers, and community is of the utmost importance as we navigate the current COVID-19 outbreak while continuing to deliver services. We will continue to carefully monitor guidance provided by the Center for Disease Control and the State of Kentucky on a continuous basis to determine appropriate courses of action, as we are needed now more than ever. Since March 2nd, Brighton Center has followed the safety practices put forward by the CDC www.cdc.gov/covid19 and continues to do so.
Please see our comprehensive statement of changes to services, delivery of services, resources, and any cancellations as they become available. We continue to remain committed to serving the community and will adapt and tailor our services to meet the immediate and critical needs of families during these unprecedented times, as we have for over 50 years.

How You Can Help
We want to be responsive to individuals and families who need our essential services or are experiencing economic hardships due to this outbreak. We are already seeing an increased need for our services. Brighton Center is looking for monetary donations to purchase food, personal care, and cleaning supplies in bulk to help sustain our daily operations and to support families during this very difficult time. Monetary donations can be made online here. At this time we are unable to accept food donations, but a monetary contribution will allow us to purchase food at lower costs and get specific high-need items out to families quickly.
If you are interested in volunteering, please sign up here.
Visit our Amazon wish list for a current list of items we are in need of.
It is important that we come together as a community of support to endure these challenging times. If you are interested in learning more about ways you can help, please contact lcopeland@brightoncenter.com.
Clothing & Household Donations - TEMPORARILY UNABLE TO ACCEPT ITEMS
Clothing Closet will be closed to the public until further notice. We are currently unable to accept clothing or household donations at this time. If you have an emergency need for clothing, please contact (859) 491-8303 ext. 2300.

Current Program Updates
Emergency Assistance
Our Emergency Assistance operations have moved to the side of our Family Center building (799 Ann Street, Newport, KY). We are offering these services next to the Clothing Closet on the corner of 8th St. and Ann St. Customers can access these services Monday - Friday 10:00 am - 4:00 pm, no appointment is necessary. If you have any questions about these services or delivery options, please call (859) 491-8303 ext. 2300. If you have emergency assistance needs related to clothing, personal care, rent, or utilities, please call (859) 491-8303 ext. 2300 to speak with a Customer Service Specialist.
Additionally, we will be providing USDA Commodities (food) to Campbell County residents Monday-Friday 10:00 am - 4:00 pm, no appointment is necessary. Beginning June, 1 we will be offering USDA Commodities to Kenton County Residents Monday-Friday 10:00 - 4:00.

Unemployed Bridge Program
The Kentucky Unemployment Bridge Program (UBP) is a forgivable loan option for eligible applicants to assist them in making their mortgage payments. Contact (859) 491-8303 ext. 2314 or pwillis@brightoncenter.com for more information.

Kentucky Career Center (KCC)
Keeping Kentuckians safe and healthy during the COVID-19 crisis is the number one goal for the Education and Workforce Development Cabinet. We are working with our partners to establish a timeline when we can safely offer in-person services at our Kentucky Career Centers. We have not yet established a re-opening date but will announce it as soon as it is determined.
We continue to offer services virtually during this time. To access our virtual services, please call (859) 292-6666.
Resources and Information for Customers:
Customers can apply for unemployment benefits online or by phone:

Call (502) 875-0442 to file a claim by phone.
Visit https://kcc.ky.gov/career to file a claim online.
Unfortunately, due to the high volume of calls and the increased traffic to the site, lengthy wait times are to be expected.

Applicants will need the following documents and information to complete their application: social security number, address and phone number; and company names, addresses and phone numbers for all recent employers.
Read more here: https://nkcareercenter.org/ui.
Contact your local KCC by phone (numbers in the following link): https://nkcareercenter.org/locations/

Kentucky Career Center Job Search Marketplace: Updated daily with companies who are hiring through the COVID-19 Pandemic https://nkcareercenter.org/job-search-marketplace/
Workforce Development
Effective, Monday, July 6 Center for Employment Training (CET) will resume in-person skill instruction for all skill divisions. If someone is interested in enrolling at CET, please contact Jared Mueller at (859) 491-8303 ext. 2202 or jmueller@brightoncenter.com.
CET Graduation Postponement: Due to precautions surrounding our response to the COVID-19 Pandemic, CET will be postponing its spring graduation ceremony, originally scheduled for May 7, 2020. CET will announce a new 2020 graduation date once there has been additional guidance from the governor.
Effective June 2, the City Futures office is open for in-person services Monday - Friday from 9 am to 5 pm. In order to ensure adequate social distancing, only one customer will be allowed in the office at a time. If you have any questions please call or text (859) 667-3277 or email Kionte: kearley@brightoncenter.com.
Career Bridge is continuing services on-site with our partner companies. For more information contact Talia Frye at tfrye@brightoncenter.com.

Bright Days Child Development Center & Early Scholars Child Development Center
Effective June 15, both Bright Days & Early Scholars reopened while continuing to follow all CDC recommendations, the Governor's order, and the Division of Regulated Child Care regulations. Our Child Development Centers serve children 6 weeks to 12 years. If you have any questions regarding services provided at either location, please call (859) 491-8303 ext. 2027.

Northern Kentucky Scholar House - NOW ENROLLING
Northern Kentucky Scholar House provides the support necessary for single parents to earn a post-secondary education degree and achieve gainful employment leading to long term self-sufficiency. At the same time, their children receive quality child care to help them succeed in school and in life.
Am I eligible for the Northern Kentucky Scholar House Program?
Are you at least 18 years of age?
Are you a single parent with primary custody of their child/children?
Are you A full-time student or have been admitted for full-time enrollment in an approved post-secondary institution?
Are you willing to attend monthly life skills workshops and meetings to achieve your educational goals resulting in self-sufficiency
Are you willing to enroll your Children under the age of 5 in Early Scholars Child Development Center?
Are you eligible for Section 8 subsidized housing?
Are you interested in achieving long-term self-sufficiency?
Currently accepting applications for eligible tenants. For more information Click Here For Brochure or contact (859) 491-8303 ext. 2801.

Brighton Recovery Center - ACCEPTING REFERRALS
We continue to serve residents at Brighton Recovery Center for Women. Due to concerns regarding the health and wellbeing of current customers and staff, and in light of continued recommendations as well as orders from the Governor's office, Brighton Recovery Center is temporarily suspending intakes immediately and until further notice. We will continue to take referrals and put potential customers on our waiting list. During this time, residents will not be permitted to attend outside AA meetings and no external volunteers will be able to enter the building in an effort to minimize interactions and to practice social distancing. If you have any questions, please call (859) 282-9390.
Center Table Catering with a Purpose will continue operating on a delivery basis only.

Youth Leadership Development
YLD Summer Club will begin the week of June 1, with two options this year: YLD@HOME and Limited in-person clubs (tentatively scheduled to resume on June 16). Youth Leadership Development will continue to offer a virtual format as well. Staff will be sharing fun activities and challenges on our social media accounts. Be sure you or your parent/guardian follow and check daily!
If you have questions, need supplies for activities or anything else let us know! Contact Michelle Bullis at (859) 491-8303 ext. 2410 or mbullis@brightoncenter.com

Homeward Bound Shelter & Street Outreach
Homeward Bound is the only shelter in Northern Kentucky for homeless and runaway youth. Any youth between the ages of 11-22 that is in need of services or support please contact (859) 581-1111. This phone is answered 24 hours a day, 7 days a week. Homeward Bound remains open and continues to serve youth in need.

Saratoga Place, Two Rivers, and Austinburg Apartments
No outside guests will be allowed in the building until further notice unless they are providing critical care or essential services to residents. Additionally, residents are practicing social distancing.

Volunteer Income Tax Assistance (VITA)
VITA will resume drop-off service by appointment only on the below Saturdays from 9:00 am to 1:00 pm at our Family Center located at 799 Ann Street Newport, KY. To schedule your appointment please call Davina Sullivan at 859-491-8303 ext. 2315.
Financial Education Services
We continue to provide one-on-one financial coaching to individuals virtually. If you are interested in these services, please contact (859) 491-8303 ext. 2314.
Two Cents about Finance will be offered virtually on June 18 from 5:30 to 7:30 pm. If you are interested in registering for this workshop please call (859) 491-8303 ext. 2314 or email infofw@brightoncenter.com.

Additional Information & Resources Below
Medicare information - telehealth services expanded
Mitch McConnell Coronavirus Updates Portal
http://www.foc-network.org/covid-19-resources.html (resources are oriented toward the staff of community-based organizations but may be useful to others as well)

Helpful Resources to Weather the Financial Impact
Low-Income Home Energy Assistance Crisis Program (LIHEAP)