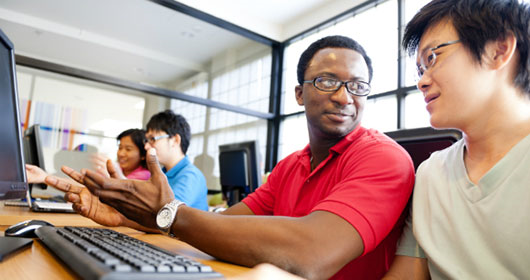 By Talia Frye, Workforce Innovation Director, Brighton Center, Inc.

Did you know that over 6,000 young adults (ages 16-24) currently living in the eight counties of Northern Kentucky are not connected to employment or education? That's right – today, there are thousands of young adults across Northern Kentucky who are not working and are not in school. This population is known as Opportunity Youth.
According to the Opportunity Index, in Northern Kentucky during 2016, there were 6,490 Opportunity Youth, with the majority (5,380 or 82%) in Campbell, Kenton, and Boone Counties. Concurrently, Northern Kentucky has the lowest unemployment rate in Kentucky at 3.6% (February 2019) and the state needs to annually add 165,000 workers to the labor force to meet national labor participation rates. Every person on the sidelines of our labor force is desperately needed to ensure economic vitality in our region. The education and employment needs for Opportunity Youth are crucial.
What we believe to be true is that our young adults are not lacking talent nor are they lacking motivation; in fact, today's young adults are extremely intelligent and possess many of the critical skills sought after by regional employers, who are in desperate need to fill open positions. So, what's the solution?
One thing is for certain – the Kentucky Career Center, Northern Kentucky's largest, most comprehensive workforce development resource, is assuming a major role in addressing the issue.

Brighton Center's Youth Talent Development Services, a Workforce Innovation and Opportunity Act program funded by Northern Kentucky Workforce Investment Board, works with Opportunity Youth to connect them to in-demand training and/or internships at local businesses in the most high demand sectors. Youth are comprehensively supported by their Workforce Coach who can link them to resources in the community that are impeding their ability to get connected to the workforce including housing, transportation, mental health, and other basic needs. Youth Talent Development Services also partners with local high schools to provide in-demand sector exploration events, resume workshops, and mock employment interviews.
In addition to Brighton Center's program, Job Corps is also present at the Kentucky Career Center and offers a different career training pathway, for 16-24-year-olds, which includes a residential component. Job Corps graduates either enter the workforce or an apprenticeship, move on to higher education, or join the military. For more information about Job Corps, visit www.recruiting.jobcorps.gov
We have every reason to be optimistic, even excited, about the future of our workforce because we have a pool of young talented individuals who are eager to make an impact in the world. And, we have an array of excellent workforce development resources available to help them do just that. We simply need to do a better job connecting the two.
For more information about Youth Talent Development Services offered at the Kentucky Career Center, contact Eric Owsley at eowsley@brightoncenter.com or (859) 292-2642.

The Northern Kentucky Workforce Investment Board (NKWIB) drives the work of the local Kentucky Career Center system to prepare and connect qualified job seekers to the hiring needs of regional employers. For more information, visit www.nkcareercenter.org/workforce-investment-board.

The local Kentucky Career Center (KCC) system is Northern Kentucky's largest, most comprehensive, workforce resource serving job seekers and employers through a collaboration of 13 partner organizations. Kentucky Career Centers are located in Covington, Florence, Carrollton, and Williamstown. For more information, visit: www.nkcareercenter.org.