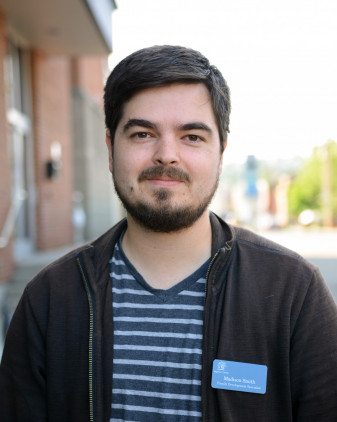 Over the past two months, we have adapted in every imaginable way to continue to meet community needs under ever-increasing constraints due to COVID-19. Crisis breeds creativity and provides the opportunity of seeing the way we deliver services through a different lens.
Recently we had a special event in Grant County where the Freestore provided 400 food boxes, Grant County's Judge Executive arranged a barn for storage of the boxes, then Brighton Center staff helped to distribute the items to the community. Customers pulled up in their vehicles, opened their trunks, and received food with minimal contact, maintaining social distancing.
As we served the line of vehicles, we realized that many came out to pick up for themselves as well as their family members who were working essential positions, senior friends and family who were staying indoors to maintain safety, or neighbors they knew were also struggling and couldn't make it out. Most of them provided IDs for the folks they were picking up for, but those were completely unnecessary – we thanked them for helping their neighbors and sent them with the appropriate number of food boxes. Toward the end we had some boxes to spare, so we asked the last 20 households we served to think about someone in their community who could use some food. Almost everyone ended up taking one or two extra boxes to take to share with the single mom next door who couldn't make it out, their friend who didn't have a car or the 88-year-old veteran who needed food but was worried about putting their health at risk by leaving the house.
When we're thinking about assets in our communities, knowledge of who actually needs the help is one of the most valuable things for organizations like Brighton Center. Most communities in the US are deeply segregated along class lines, so someone who has wealth is likely to be surrounded by others who are well-off as well. On the other hand, folks who are the most likely to experience economic precarity are surrounded by others in the struggle as well. Our customers who are receiving emergency assistance often feel guilty about receiving essential services because they know a handful of people who are in worse situations than themselves. Anyone who has felt it before knows that guilt is not the most constructive emotion, so how do we take our customers' understanding that there are people in our community who are worse off, and turn it into something that is both helpful to those people and empowering? I also noticed that customers really want to get out of their vehicles to help us load the boxes they are receiving. Everyone wants to lend a hand and no one wants to feel like they're just receiving charity.
What will stick with me from this whole experience is that empowering others to give back is and should be the cornerstone of what we do here. Giving back has always been at the top of Brighton Center's self-sufficiency continuum and it's very clear why – most of the people I meet who work in this field intrinsically understand that. How can we provide opportunities for the families we serve to reach self-sufficiency by enacting the highest human impulse: to give back?
In my position, I'm excited to take the lessons of this crisis forward and do everything I can to empower Northern Kentuckians to act in their community