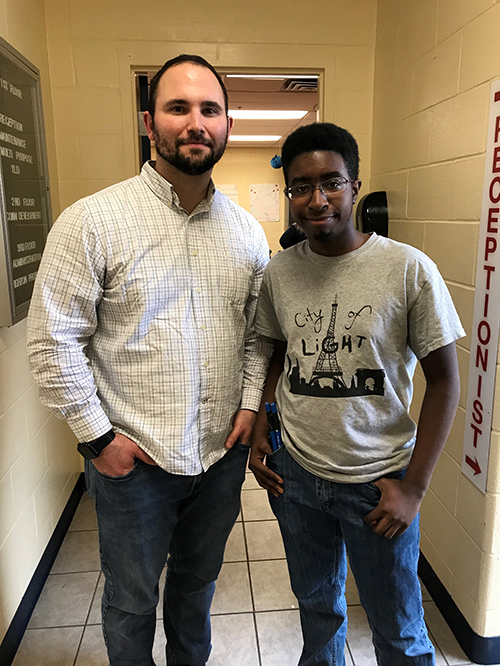 Since 2016, Brighton Center and Newport Independent Schools have been awarded the STEM Bicycle Club through The Greater Cincinnati STEM collaborative. This partnership provides Brighton Center the opportunity to host a Bike Club in the spring for the teens in Newport. This "heads on, hands on" project engages middle school students for 10 weeks in the after-school environment. During the club, students break down and re-assemble bicycles that they also get to keep when they are finished.
The 2018 STEM Bike Club started February 21 and at this meeting a friendship was rekindled. Justin, a mentor, came back to the club after taking a year off and he quickly recognized his first mentee, Isaiah. Isaiah, coming back for his third year as a peer mentor, saw Justin and both were fascinated to see each other. They quickly began catching up and reminiscing over their first year as partners.
"Two years ago when I was his mentor we molded quickly. We understood each other's strengths and worked perfectly together," says Justin. "He had a great attention to detail and wasn't afraid to ask why."
The STEM Bike Club continued this relationship built two years ago and allows them to now work side by side as mentors for this year's Bike Club.
"This club provides involvement and exposure to different experiences for these kids in Newport," says Justin. "It demonstrates the science, technology, and mathematics behind building something and sparks new interests."
The STEM Bicycle Club was established to build student confidence and problem solving skills while reinforcing the principles taught during the school day. Through the involvement of the community mentors and coaching, the club also exposes students to STEM career possibilities.
"My participation in the bike club provided me with a new experience and brought knowledge along with it," says Isaiah. "I also have made new and lasting friendships, like Justin's, along the way. I returned this year for my third year as a peer mentor to help kids just like me and give back what I received through this club."
Justin and Isaiah's friendship is a true testament to the impact Bike Club has on youth and the mentors. Thank you to all that provide this opportunity and recognizing the value in not only the academic impact but also the social and emotional impact these clubs have on our youth.
« See All Stories