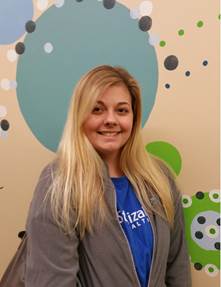 Sometimes it's the support of family that gets you over your humps. For CET graduate Sara Holaday, that turned out to be true. As Sara tells it, "I love CET like my second family. The staff and trainees helped me get through tough times mentally and physically, motivated, me and helped me realize my skills and strengths."
High school was never Sara's thing. She suffered with anxiety, couldn't focus and just plain didn't enjoy being there. As a result, she didn't qualify for the academic scholarships and grants she needed to attend college. She felt lost, defeated, and feared that she would never have the opportunity achieve her dream of a career in a helping profession. However, luck struck when a friend of her mom who had attended CET suggested that she would love the program. And as it happens, she did.
Sara enrolled in CET's Medical Assisting program in September of 2015. She was delighted to find CET to be not only a supportive and motivating culture, but one that allowed her to explore all of the different opportunities a medical career offers. The comprehensive clinical training, real-world approach, and enough repetition to assure confidence and mastery, appealed to Sara's desire to be excellent in everything she does. The personal and close connections she had with her coaches kept her open, motivated, and positive about her future.
Sara graduated in November of 2016, landing a phlebotomy position at St. Elizabeth. After just seven weeks on the job, she received a "Care Gram" from a patient saying how kind and caring she was and as a needlephobe, how amazed she was that she didn't even feel the stick! It's these small reminders that she is providing comfort and care that makes Sara certain the medical field is for her.
Life is going well for Sara who is living on her own in her very first apartment and is excited to see what her future holds. As she puts it using her signature ironic humor: "As a phlebotomist it's tough being called a vampire by my patients! Through hard work I have earned a career that gives me so much satisfaction and proves to me that I can meet any challenge that comes my way and that nothing is impossible."
« See All Stories