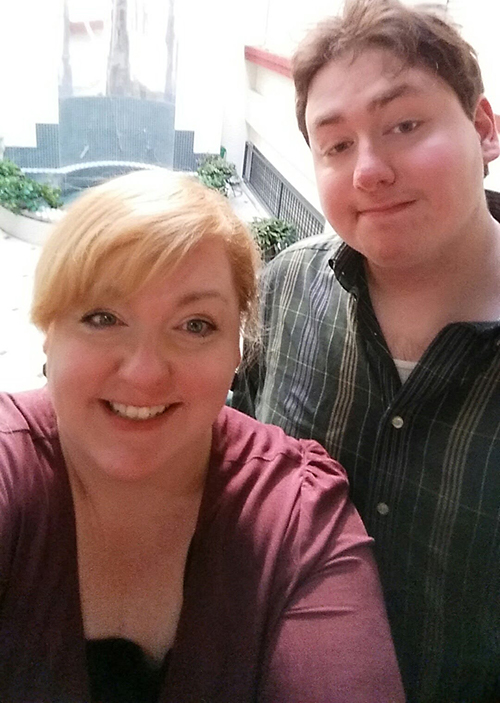 Colton wanted to do more after graduating high school but wasn't having any luck finding steady work. He struggled with a disability his whole life that made getting a secondary education and reaching his goals difficult. Colton and his mother Rachael heard about Kentucky Career Center (KCC) and sought help to make their dreams a reality.
Colton was introduced to Eric, Youth Talent Development Specialist at KCC, who was able to work with and get him connected to Workforce Innovation Opportunity Act (WIOA) funds through the program. This meant Colton was eligible for up to $7,000 over two years for post-secondary education. Eric thought the Center for Employment Training (CET) would be a good fit for Colton and Rachael agreed as well. They both attended the next info session and as Rachael says, "we were so impressed that we both joined!"
Rachael described life before Brighton Center's CET program as not good. Her son struggled to make it through interviews, lacked job skills and did not have a sufficient resume. Rachael was also continually denied jobs because of her lack of skills and computer knowledge. Neither Rachael nor Colton had jobs to support themselves or their family but they needed a change and the work with the KCC was going to get that started for them.
Colton and his mother both gained the skills needed for a successful career through their work with KCC workshops and programs as well as the one-on-one case management. Colton enrolled in the Business Computer Technology program at CET and Rachael enrolled in Health Technology Administration. Colton's instructors helped him tremendously during his education and the staff recognized him as an exemplary student, which boosted his self-confidence.
Eric has also introduced Rachael and Colton to other programs at Brighton Center.
"I was astounded at all the programs that Brighton Center has to offer. We have utilized the food pantry and fresh produce program when food was an issue in our home. I have four children so the food pantry allowed me to not worry about feeding my children while I am at CET. I'm also a part of the Healthy Choices for Everybody class that is put on by the University of Kentucky's Cooperative Extension Service which is held on Tuesdays at CET. We learn new recipes and healthy ways of eating that fits our budget," says Rachael.
Colton and Rachael also utilized Dress for Success and Well Suited. Through those programs they were allowed to pick out an outfit to wear to class and future interviews. It helped take the pressure off figuring out how to afford professional clothes.
"Our connection with Brighton Center has changed our lives for the better." Rachael stated, "We are learning new skills to help us become self-sufficient and get the careers we want. The staff helped us through the process so we can continue to come to CET and not worry about food, utilities or homelessness. My son has many obstacles in his life with his disability and I feared he would never find employment. I've had many obstacles as well. I feared my age and lack of skills would prevent me from getting the career I wanted. KCC and CET has changed my mind while changing my life. It has given me the confidence to know that I am capable of anything I put my mind to. It has made my son more confident and he now realizes that through hard work and dedication, he can get where he needs to be."
« See All Stories