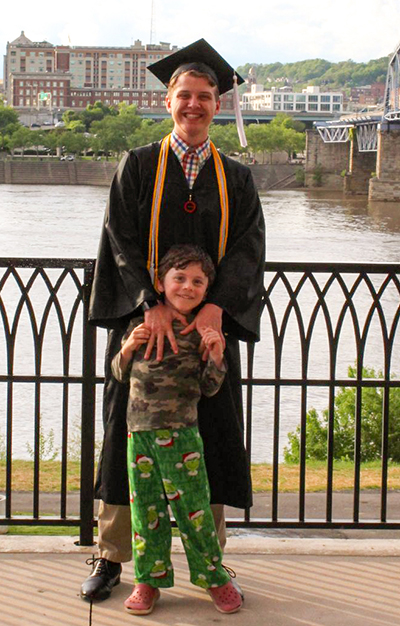 Quinn: Having a community is really nice and it's really nice being able to admit that you don't have to do it alone, but I didn't always have that.
Despite having my son Leo very young as a teenager, I have always been very independent and take my responsibility as a parent seriously. After finishing high school and getting accepted into the University of Cincinnati, I moved to Northern Kentucky from LaGrange, Kentucky.
I didn't have a support system. I was on my own as a single parent and mostly stayed in my apartment and kept to myself with Leo. Then, I heard about Northern Kentucky Scholar House. At first, I thought it sounded too good to be true, but soon learned it was exactly what I was looking for.
When I first got the keys to my apartment and walked in, I just about cried. I had not realized how great the apartments were. What meant even more, was the immediate sense of community I felt. Northern Kentucky Scholar House is not just another apartment building; it's a community, especially for kids. Leo was very excited to be around other children. When we moved in, he was only three and a half.
The on-site child care made juggling school and parenting just a little easier. Early Scholars Child Development Center did a great job of preparing Leo for Kindergarten. He has done a lot of growing since we first moved in. He is a sensitive and strong-willed, compassionate child. He is doing great in school and is learning to write, read, and do math at just six years old.
One of the most beneficial aspects of living at Northern Kentucky Scholar House is the monthly workshops. The financial workshops in particular were very helpful. I have learned about student loans, financial concepts, financial resources, creating a budget, and credit building. I was able to take advantage of Financial Coaching through Brighton Center after attending the financial workshops. I also have enjoyed the cooking and nutrition classes.
Being at Scholar House has taught me that I don't always have to be so strong. My last year of college was especially tough with several personal issues taking their toll along with a medical challenge. I wasn't sleeping well, to the point where staff noticed and pointed me in the direction of getting a sleep study done. With their encouragement, I was diagnosed with Sleep Apnea and finally started getting sleep again.
I am most proud of the fact that I graduated college with a Bachelor's Degree in Political Science in just three years. I am looking forward to moving to Chicago and working toward going to Law School.
The staff at Scholar House and Brighton Center are willing to work as hard as you are. As long as you are willing to work hard they are willing to match that. I am much more confident in my ability to be on my own in the world, but I still know when to ask for help.
The view from here looks bright and full of possibilities for Leo and me.
ABOUT NORTHERN KENTUCKY SCHOLAR HOUSE

Benefits of Northern Kentucky Scholar House
Complete your college degree in a supportive academic community
Set your child(ren) up for a lifetime of success
Access to meet individually with a Case Manager
On-site academic tutoring
Financial education & coaching opportunities
Employment assistance
Life skills workshops
Leadership growth and opportunities
New, family-focused designed housing
On-site 5 STAR rated child development center
Supportive peer community
Call today to learn more & sign up for an information session (859) 491-8303 ext. 2801
« See All Stories