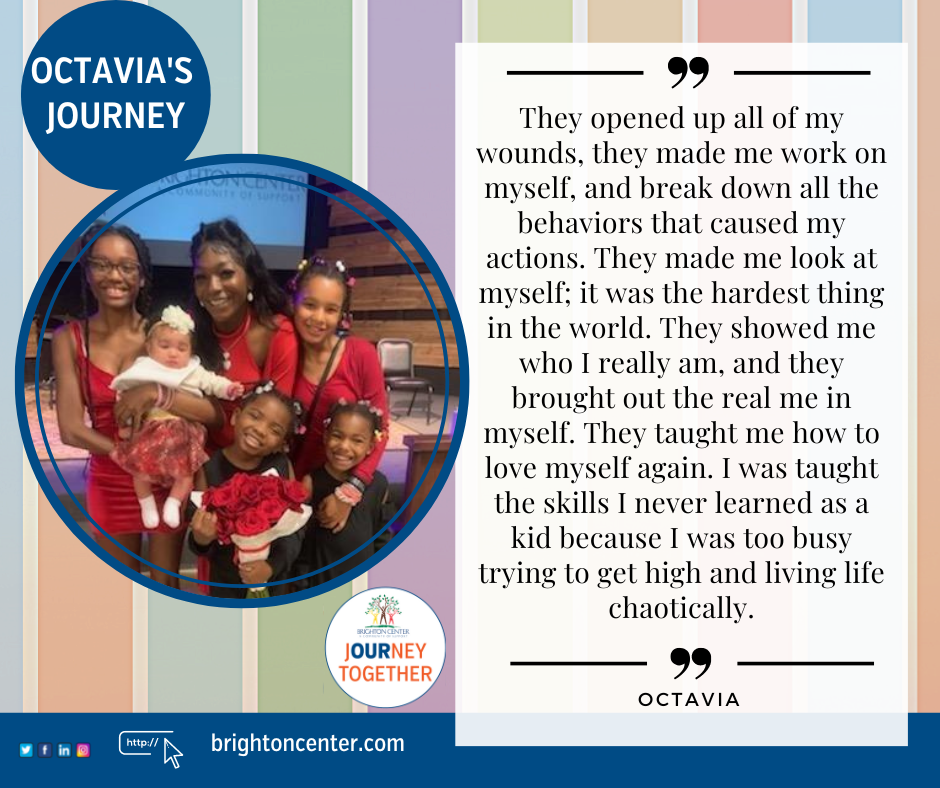 My family has a history of addiction – my parents have been in recovery since the 90s, I had recently lost an aunt to addiction, and I have a sister and cousins who are still struggling.
I spent more than ten years doing whatever it took to get the next high. I lost my kids, my marriage fell apart, I lost relationships with my family, and I was basically homeless.
Each time I would get sent to a treatment program, I would go through the motions and get right back out and use again. It would barely slow me down at all.
A probation violation got me sent to Brighton Recovery Center, and they brought me to a complete stop. I tried to fake it and say everything they needed to hear so I could get back out again, but they wouldn't let me rush the process. I was so used to other treatments that rushed to cram everything into me very quickly. But Brighton Center moves at your own pace and won't move you forward until they can see the change in you at each step of the program.
I went through the first year of the program with a rebellious attitude. I was so angry and unwilling to change anything about myself or do anything different. They tried to reach me for the longest time, to see that I was at rock bottom even though I felt perfectly fine on the inside, and I fought it with every bone in my body.
They opened up all of my wounds, they made me work on myself, and break down all the behaviors that caused my actions. They made me look at myself; it was the hardest thing in the world. They showed me who I really am, and they brought out the real me in myself. They taught me how to love myself again. I was taught the skills I never learned as a kid because I was too busy trying to get high and living life chaotically.
When I finally had that breakthrough, it was a relief to everyone. Finally! I got it! I was in the program for 16 months – every other treatment program would have put me back on the streets to use again before then. But that long-term process was what I needed to get through all those layers to the real me underneath.
I benefited from learning life and career skills that support my long-term recovery. I also had the opportunity to be part of the catering team through CENTER TABLE, where I further developed skills.
Now, I can live a life I never imagined. I have a great job where I run a team, I've gotten two promotions, and my colleagues came to my graduation ceremony from Brighton Recovery Center to support me on my recovery journey.
I have a home, a car, and a healthy relationship with someone who understands and supports me. Most importantly, I delivered my baby girl completely sober, and I get to be her parent every single day. I am at peace with my life and myself and I thank Brighton Center daily.
« See All Stories