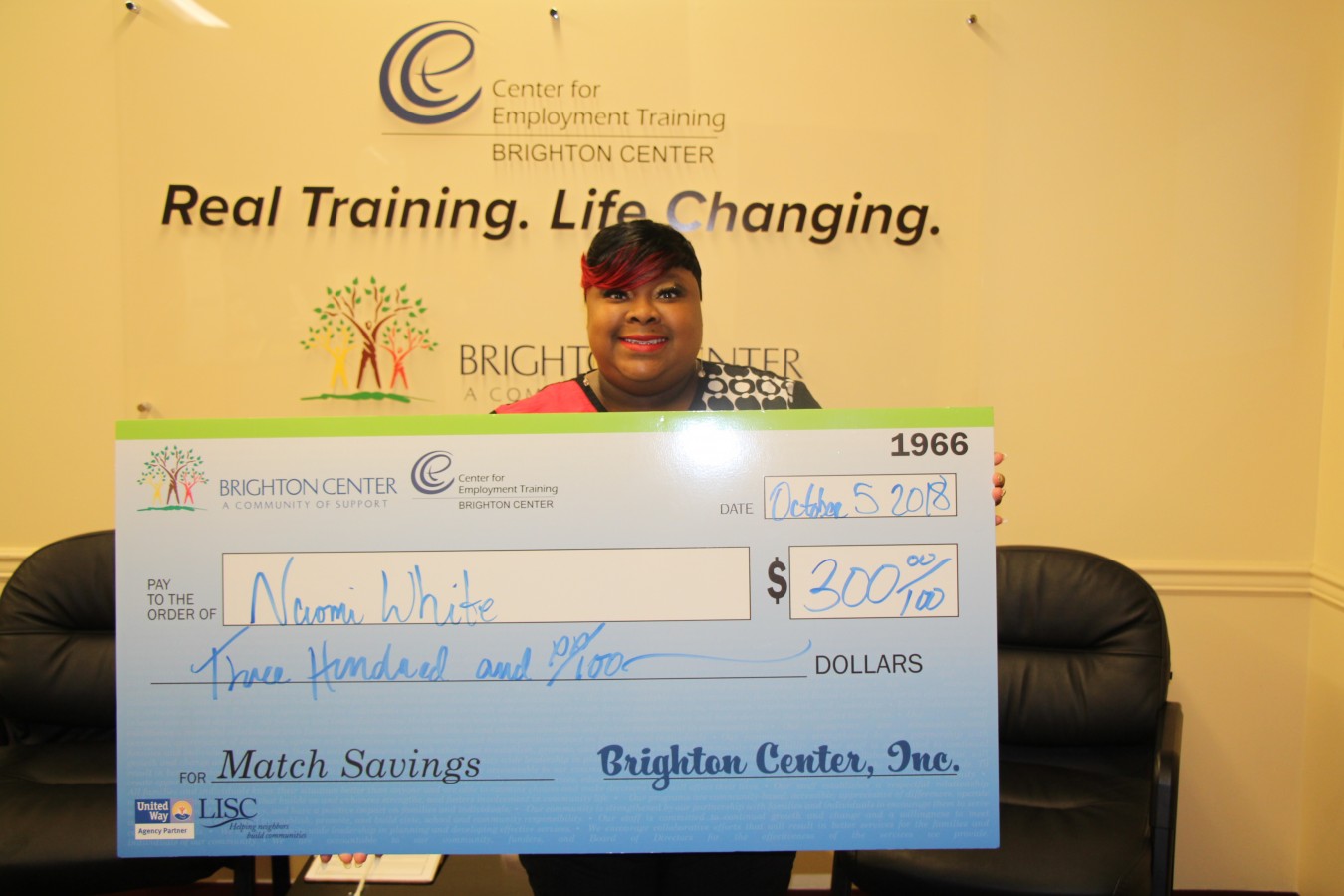 I was introduced to the Center for Employment Training (CET) through a friend in the program. I was attending Gateway Community and Technical College and graduation was approaching but I could not get past my Anatomy class. I was interested if CET was a better route, so I decided to attend an information session and joined Medical Assisting in November 2017.
I then got connected to Financial Wellness and worked with a Financial Coach right away. I have been able to raise my credit score by more than 40 points, increased my net income by decreasing my expenses by $800 a month, and increased my overall net worth.
Through my hard work, I have qualified for the Savings Match program two years in a row where I saved $300 and got matched $300. I was also eligible for a retention raffle for $50 to help with a monthly bill because of my continuous participation in Financial Wellness.
Through my involvement with Financial Wellness and CET, I was introduced to Northern Kentucky Scholar House. I have a six year old daughter and I am going to school full time so I applied, got accepted, and moved in May of 2018. Through Brighton Center, I have also been connected to the Food Pantry, Clothing Closet, and the Holiday Drive for my daughter and I during the holidays.
Brighton Center has always felt like a family to me, but the Holiday Drive made me feel like they cared about us. I got the chance to hand pick presents that my daughter will love and actually use. It wasn't just a stranger buying us presents because they felt bad, it felt like a family member helping out and I appreciate that more than anything.
My hopes and dreams are to finish school, work in oncology, and become financially stable. Currently, I work at Tri-Generations with adults with disabilities. I eventually want to go back to school to become a social worker and provide services to adults with disabilities.
I am most proud of the goals I have accomplished through hard work and dedication. Many doors have opened for me this past year. I have been able to raise my credit score, save money, and get closer to living my dream of working in oncology. I also have a stable home for my daughter and recently was approved for a Credit Smart Loan to work on car repairs. These repairs are vital to continue my work at CET so I will be able to get to my externship and my job once I complete the CET program.
Brighton Center has provided my life with stability and given me tools to be ready in the workforce. All my needs have been met financially and beyond because of that first step of joining CET. It's not just school, they become a family that connects you to the resources you need to prosper. Brighton Center is truly an umbrella of support that get you where you need to be.
« See All Stories