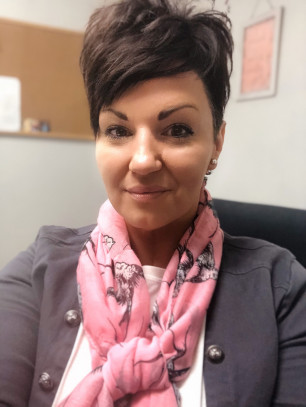 I was lost in active addiction for close to 20 years before coming to Brighton Recovery Center (BRC). I struggled being a mother to my four children. I was unemployable, untrustworthy, and unreliable, isolated from family, and could not see the crash course which lied ahead in my own future.
While in active addiction, I had a few run-ins with the Department of Corrections due to my unmanageable lifestyle. In 2012, I became a resident of BRC through a Department of Corrections referral. The Recovery Center saved my life. If it were not for the amazing long-term program and the caring staff that loved me through the process, I doubt I would be able to tell my story today.
When I came to BRC I did not want to be surrounded by so many women, but I wanted sobriety more than anything. I was reluctant in the beginning, but saw something in the women that I wanted. As I progressed through the components of the program I began to see changes in myself that made me want sobriety even more and in all aspects of my life.
Brighton Center taught me how to live. I learned the Recovery Dynamics program which introduced me to a 12-step program to treat my addiction. I was able to use the tools I learned to change my habits and lifestyle, which has given me the ability to become a productive member of society.
I no longer wake up in the morning regretting my life, needing to feed my addiction, and cursing GOD. Now, I wake up and thank GOD for my sobriety and all the blessings that he has given me. I have no regrets now because I know how to use my journey to help others with their own. I now have a clear path for my future. I am an awesome mom to my (now) five children. I met my significant other in recovery. He and I have purchased our first home just over a year ago. I am now a trustworthy friend, 12-step supporter, BRC alumni, and a reliable source of hope for others. Today, I have over seven years of sobriety, spend lots of time with my family, and I am blessed to be employed with the program that saved my life.
My hopes and dreams for the future are to continue pursuing a career in addiction and recovery and to use what I have learned in my journey to help others. This is a passion I hold dear to my heart. I never thought I would have the opportunity to work in the program which saved my life. I am forever grateful to BRC for seeing in me what I could not see in myself so long ago. I can hold my head up high with dignity, knowing that I am no longer that lost little girl, but an empowered woman with a bright future. Thank you, Brighton Center.
« See All Stories