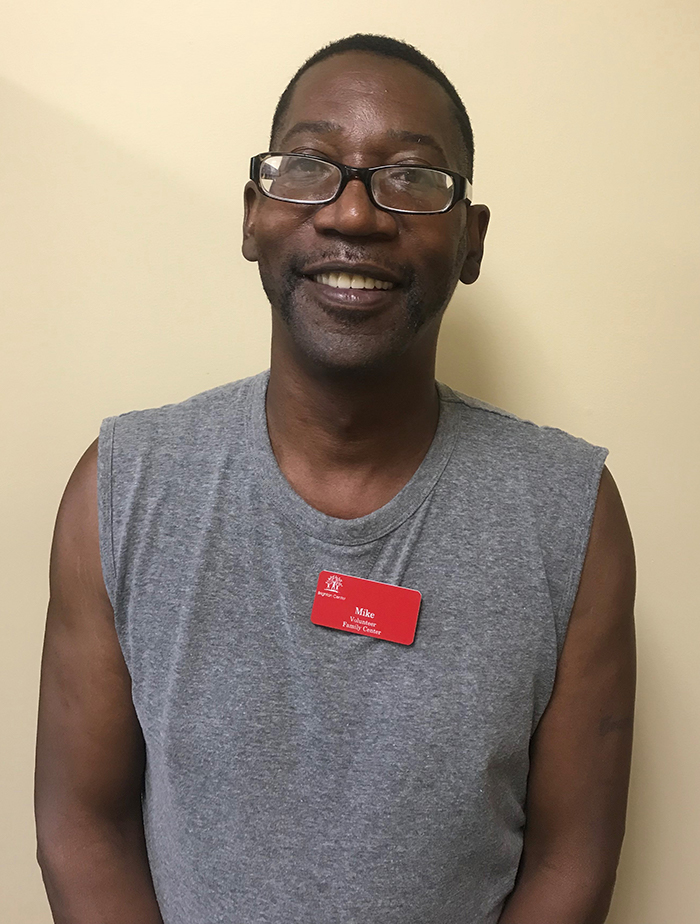 In 2013, I was introduced to Brighton Center through a neighbor. In the beginning, my dog and I would visit two or three times a week to receive free food in the lobby. A relationship developed and those two to three times a week quickly developed into our daily walk. After a while, the Family Center introduced me to a Resource Advocate to visit on a monthly basis. I signed up for USDA Commodities that assist with food as well as other necessities.
A few years passed and my Resource Advocate mentioned the Club Care program at Brighton Center and I decided to join. This program is designed to work with individuals who are either retired or receive long-term disability and provides an opportunity for participants to get connected to resources and supportive services to maintain independence and stable housing.
While in Club Care, I was connected to the senior work program at Community Action. I worked with other agencies and got placed with Brighton Center's Family Center in 2017. Through my work assignment at the Family Center, I had the opportunity to see another side of Brighton Center's operation and I am just as impressed.
Through volunteering, I have the opportunity to give back to my community and help others who may need a little extra help along their journey. I started volunteering once a week, which increased to three times a week and now I volunteer Monday through Friday. There is something new every day at Brighton Center. My duties include filling up the food pantry, bringing meat up for individuals, setting up the lobby, unpacking the food truck, and just about anything else that I can help with. If I don't show up I've got someone calling me wondering if I am okay because I am never late.

Toward the end of 2017, I grew unhappy with my living situation and in January 2018 things took a turn for the worst. I shared this with the staff at the Family Center and they recommended that I put an application in with Saratoga Place Apartments. Within two months, I moved out of my old apartment and into Saratoga Place and I have never been happier. I have a safe and reliable place to live. I don't know what I would have done if I didn't get into Saratoga Place Apartments.
Volunteering is fulfilling to say the least. It gives my life meaning and keeps me busy. Brighton Center has ultimately become my family and the employees are there for me no matter what. I first visited the Family Center to utilize the free food in the lobby and now I am the one who stocks the food in the lobby. My life has come full circle.
« See All Stories