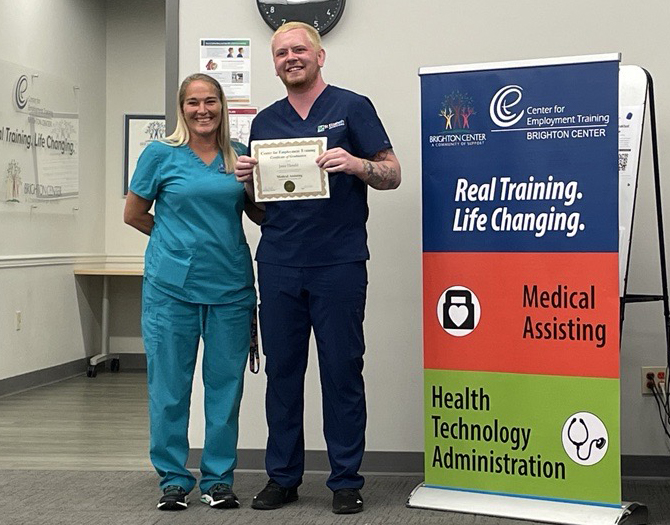 In February of 2022, I saw a flier that I thought was too good to be true but changed my life forever.
Before coming to Brighton Center's Center for Employment Training (CET), I had experienced a period of homelessness. At the same time, I was trying to manage working, going to school full-time, and finding housing. When I walked through the doors at CET, I felt anxious and intimidated thinking about returning to school and whether or not I would be successful.
Shortly after joining the program, I realized that these were my people and that we've all shared similar experiences and had the same purpose. As my instructor, Tammy always says, "at CET, we are lifting spirits and changing lives."
CET is more than a job training program; it is a place that provides support that genuinely sets you up to be successful. While I was at CET, they connected me with emergency assistance, rent assistance, WIOA funding that made the program debt-free, Dress for Success, helped with a budget, and so many other workshops and resources that will continue to help me in the future.
When I walked through the doors, I was very timid, but as I gained more confidence, I became a proud Ambassador who wanted to push others to succeed and feel good about themselves. When you see that progress, and you can reflect on that, it's pretty incredible. I know that my peers can do it and are capable of achieving their hopes and dreams.
I am very proud to be a part of Brighton Center's family. I graduated in June 2022 from the Medical Assisting skill division and joined the other proud CET alumni whose lives have been transformed! I am now proudly employed full-time with St. Elizabeth Physicians.
« See All Stories