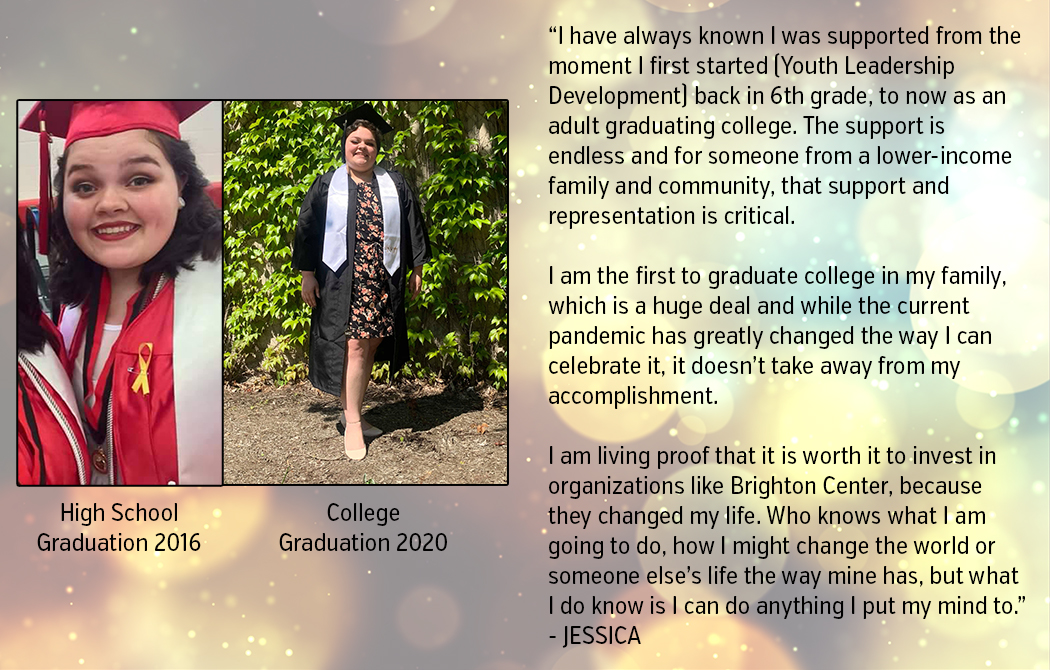 You know the saying "it takes a village," well, my village is Brighton Center.
My time with Brighton Center started over a decade ago when I was in 6th grade. A few of my friends were part of the Youth Leadership Development (YLD) program and convinced me to join. I thought it was just your average after school program, but it goes so much deeper than that. Once you join Brighton Center you never really leave. They became family, both the staff and other kids in Youth Leadership Development.
It's one thing to have a mission statement or vision but, with Brighton Center, it shows through the work and staff. I have seen it first-hand. I have other friends who have seen it. It's more than just an organization, it's the mindset of all the staff to help and it's not just short-term, they are in it to help long-term.
My family and I have used several services throughout Brighton Center. We have received food through the commodities program and Choice Food Pantry, assistance through the Clothing Closet, and even holiday help! All of these services helped us reach our daily needs and allowed me to worry less and focus on things like school! Having this assistances aided my family's financial struggle and I am eternally thankful for it.
Through Youth Leadership Development I have had so many opportunities I never would have. The staff has always recognized that my education is important to me and in turn, it was important to them. That support helped build confidence in me and it's never-ending support that has really made the difference over the last 10 years.
As a low-income, first-generation college student, I turned to Brighton Center staff for help with navigating the admission process and they were there every step of the way. Through college tours, help with filling out my FAFSA, admissions applications, and scholarship opportunities staff were always willing to go the extra mile to make my dream a reality.
One of my proudest moments was being chosen for Brighton Center's Jean Brown Scholarship, which provided me with a $1,000 scholarship each year of college. They invested in my education, which I thought was very special, and the fact that an entire committee thought I was worthwhile and would do great things really helped build my confidence in starting college at Northern Kentucky University.
I never thought I would be graduating with my Bachelor's degree. It wasn't easy and there were many obstacles to getting this achievement. At times it felt like I had to take four steps to meet everyone else's single step. Financial instability weighed heavily and there were moments when I would lose confidence comparing myself to others who were better off. But, I was always able to reach out to Brighton Center when I felt like I needed support.
The biggest thing I have gained through my experience is knowing that I am good enough. I am capable of doing whatever I want to do. If I can't get it done one way or the way I originally planned, there are multiple paths to my success. Maybe it takes option D to get there but I can get there and Brighton Center taught me that.
I have always known I was supported from the moment I first started back in 6th grade, to now as an adult graduating college. The support is endless and for someone from a lower-income family and community, that support and representation is critical.
I am the first to graduate college in my family, which is a huge deal and while the current pandemic has greatly changed the way I can celebrate it, it doesn't take away from my accomplishment.
I am living proof that it is worth it to invest in organizations like Brighton Center because they changed my life. Who knows what I am going to do, how I might change the world or someone else's life the way mine has, but what I do know is I can do anything I put my mind to.
« See All Stories