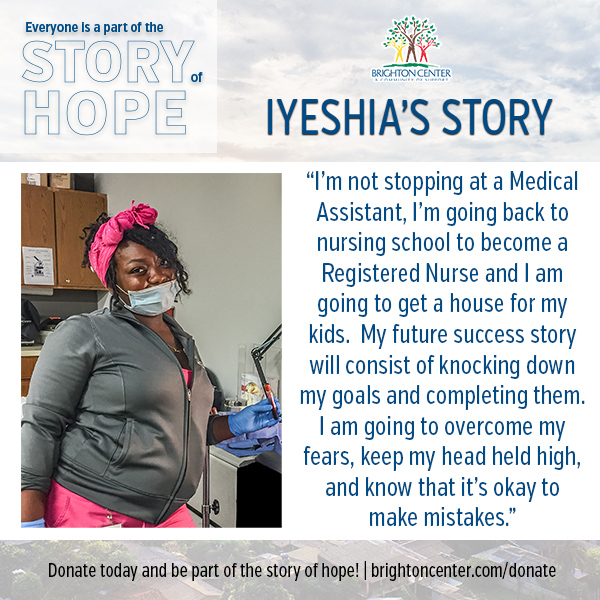 When I first found Brighton Center I was working third shift, sometimes 12 hour days and had an inconsistent schedule at a nursing home. I was not being paid enough to make ends meet, and the job was very stressful. I was driving two hours every day, between getting my son to daycare, my daughter to school, myself to work, and then back to pick them up by the end of the day. I was exhausted and feeling stuck. I learned about Center for Employment Training (CET) and a weight was lifted, but how was I going to make it work?
When I enrolled at CET, I met with Jonika who really got to know who I was and the barriers I was experiencing. I was paying market-rate rent and having trouble keeping up with my bills. I wanted to continue with training at CET, but trying to manage a full-time job, rent, two children, and training was overwhelming. We were on the verge of eviction. I was referred to Stable Families which is a program that provides support to families with school-age children who are experiencing housing instability.
I thought it was impossible, but my mother gave me her full support and I thought "OK, I'm going to do this." As time goes by you ask "what did I do with my life?" A year had already went by and I was still stuck in the same position. I didn't want that anymore.
In order to help with my housing costs, and to reduce the amount of drive time back and forth between work and daycare, Jonika referred me to Northern Kentucky Scholar House (NKSH). This is a program for single-parents pursuing post-secondary education with children. When I was accepted into NKSH, it was another weight lifted. Our apartment is literally a few steps away from my son's classroom at Early Scholars Child Development Center where he is nurtured and constantly learning.
I have a consistent schedule that now allows me to be at home in the evenings with my kids. At CET, I have learned so much and was selected to be a CET Ambassador, where I get to help new trainees learn about the training program, provide support, and help them navigate any challenges along the way.
I was recently accepted into the St. Elizabeth Fellowship Program for my externship, which is an opportunity for me to gain on-the-job experience.
Another aspect of the support I received during my time at CET was through Financial Coaching. I was able to meet with a Financial Coach on a regular basis where we worked on budgeting, credit, and learning how to manage my expenses. Through our one-on-one meetings, I was able to participate in the Individual Development Account service which is 2:2 matched savings program that allowed me to save enough money to purchase a car.
I'm not stopping at a Medical Assistant, I'm going back to nursing school to become a Registered Nurse and I am going to get a house for my kids. My future success story will consist of knocking down my goals and completing them. I am going to overcome my fears, keep my head held high, and know that it's okay to make mistakes. We will continue to keep our faith, count our blessings and be grateful for whatever circumstances that we will face. More importantly, if someone happens to fail, we won't give up!
« See All Stories