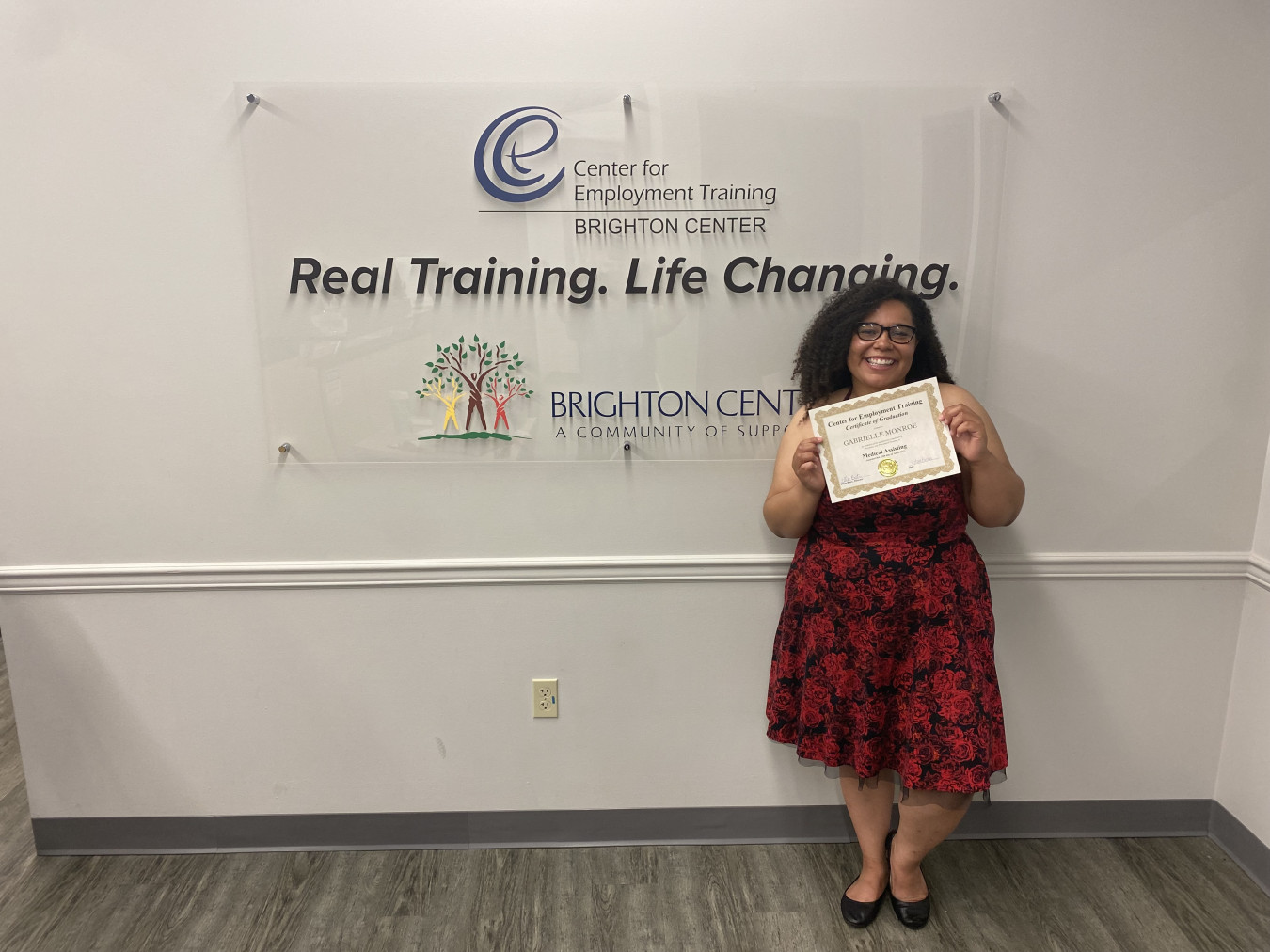 My journey with Brighton Center started in November of 2019. I ended up at the Kentucky Career Center. I didn't really know what I was doing with my life and I felt like I was stuck. I met with staff, took a few career tests, and learned about available training and educational opportunities funded through grants, one of which was Brighton Center's Center for Employment Training (CET).
I attended an information session and took a tour. While talking with the staff and trainees, I saw a sense of community and a support system, which is what I needed. Staff helped me apply for financial aid through the Workforce Innovation and Opportunity Act, and I started in March of 2020.
I was in the program for just 3 days, working very hard and then the mandatory quarantine started. Within just a week, the staff put together an entire distance learning model. I was fortunate enough to have internet access and a computer, so I just started digging in. For 2-3 weeks, I did really well and felt good, but then I just hit a wall. I wasn't sure how I was going to continue making progress. With two brothers at home, one of which who needed extra care, it demanded a lot of my attention and became very stressful.
It was super hard, but I have never in my life completed something like this before. I would always get to a certain point and get scared and give up, but I sat down and reached out for help because I didn't want to sabotage myself. Not even an hour later I got a call from a staff member who was really encouraging and supportive.
I was able to get connected with mental health services and then expressed a desire to move out on my own. We started meeting once a week to make a plan to achieve my goal of moving out. For two months, we met at least once a week. They helped me get connected to and apply for resources, walking every step of the way with me to navigate each process. They even helped me look for an apartment. By the end of June 2020, I was in my own place.
We started back in-person in July. It was a true test of how strong I was and what I could do. Throughout my journey, I wasn't sure I would finish, but they cheered me on and kept me motivated to continue.
I was nominated and accepted as a CET Ambassador. I would reach out to other trainees to encourage them, share my story, and help them understand all of the resources I was able to utilize. I was also accepted as a St. Elizabeth Physician's Fellow and did my externship in dermatology, which I absolutely loved.
The support I received from Brighton Center's wrap around services was amazing. No matter what barrier was in my way, there was a resource I was connected to that would help. I was able to attend Financial Education classes and work on-on-one with a Financial Coach. My coach helped me create a budget and savings plan which was essential for living on my own. I was also connected with a voucher for new glasses, which I needed badly, but couldn't afford, along with scrubs and food.
Brighton Center saw something in me that I didn't even see in myself, and they reminded me every step of the way that I could do it. All of the staff really care, and in turn, it instills in us to treat our fellow peers with the same care. Brighton Center and CET are basically fail-proof. I consider them my family, not only my fellow peers, but also the staff who have been there for me every step of the way.
I am now a Medical Assistant and this is just the beginning.
« See All Stories