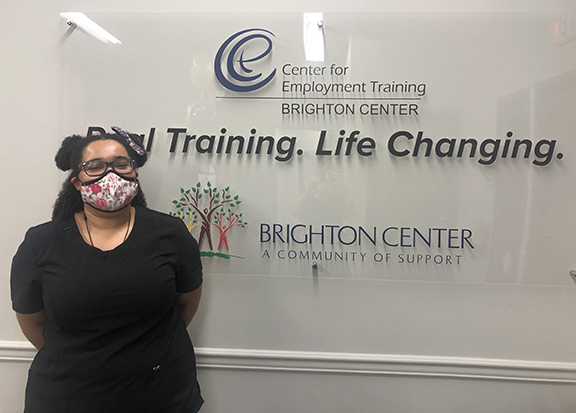 Like many young people, I was unsure about what career path I wanted to follow in the future. I felt like I did not have a sense of what I was doing in my life. At 25, I was still living at home which caused some strain. This stress pushed me to go from job to job in hopes of landing one that I would love. However, I was not fulfilled with where I was in life and that's when I was connected to Center for Employment Training (CET) through the Kentucky Career Center.


I started in the Medical Assisting skill division in March, a week before COVID-19 stay-at-home orders began and then had to shift to distance education to continue making progress.

I have always had a passion for working with kids but realized that my past dream of becoming a teacher was not the right fit. My new dream is working in pediatric care where I can combine my love for children with Medical Assisting. I am a third of the way through the program and will graduate CET by the end of 2020. As part of the program, I will have the opportunity to have on-the-job training through an externship.

The COVID-19 pandemic has allowed me to appreciate the little things in life more. COVID-19 showed me that I can do anything I set my mind to even when challenges are thrown me way. I have an incredible amount of support during this time. If you are ever unsure, you can always find a support system through CET. CET is taking precautions very seriously and has us trainees in a rotation so that not all us are in the classroom at once. My schedule consists of being in the classroom two days a week and online the additional days. Everyone is still receiving the proper training that they need to graduate when the time comes.

CET gave me a push towards being more confident my capabilities. The support from instructors and the community reminds me to stay positive and that I can do whatever I set my mind to. The optimism that I hears on a daily basis at CET has given me the confidence to move to my own apartment. This was a huge step! I now have a sense of independence which will keep the ball rolling in the right direction. This program made me realize that I do have self perseverance and I am finally seeing the results. Another accomplishment that I have recently achieved is completing my first clinical test in front of fellow classmates. This is a huge step in the right direction to becoming a Medical Assistant.

My life has changed for the best after becoming involved with Center for Employment Training. If anyone is unsure of what they want to do, CET is a great place to start. It does not hurt to come in and try it! Brighten Center is so much more than just the CET program. It makes me want to volunteer more.
« See All Stories