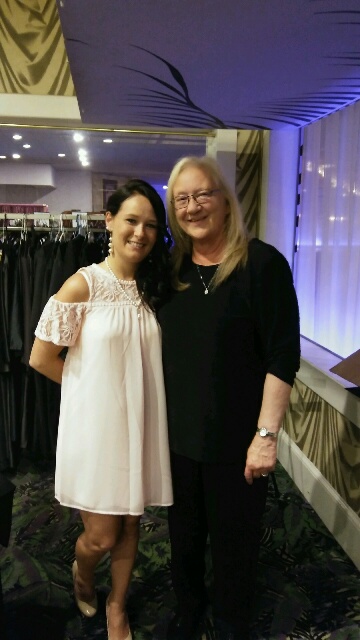 December, 2015
Ms. Lee-Ann,
I first want to apologize. I am so very sorry for wasting so much of your time in the past. I know I haven't always been the best student and I haven't always given it my all, but I want you to know from the bottom of my heart that I did always have the best of intentions.
Sometimes even the best of intentions can't keep pace with the challenges and craziness of life; and by all accounts beautiful, tenacious Felicia Johnson has had her fair share of both.
Felicia hated Bellevue High School with passion. She was the kind of kid that needed personalized academic support that wasn't available, so she goofed off, bugged the other kids and remembers her high school experience as essentially "lots of suspensions and Saturday detentions." Finally, Felicia got herself expelled. Without many other options, she started attending Newport Alternative High School where she not only received the support she needed but earned herself straight A's. Soon she returned to Bellevue High, graduating in 2004.
CET Enrollment #1: August, 2004
Felicia always wanted to be a doctor, so when she heard about CET in 2004, she enrolled in the medical assisting program. But new challenges and craziness ensued; fresh out of high school and on a career path that excited her, Felicia became pregnant with her first son. Unfortunately, it was a high risk pregnancy and she found it necessary to drop out.
CET Enrollment #2: August , 2006
Life took a calmer turn in 2006, and Felicia took this opportunity to re-enroll in CET. But once again, new challenges and craziness knocked at her door when her grandmother was diagnosed with Alzheimer's. For a time she stayed in a care facility, but eventually came home where Felicia assumed responsibility for her care until her death 2007. Felicia dropped out of CET a second time during this difficult period.
I never once went into this thinking I'd have a million and one obstacles in my way, but life happens and up until now, I've had to deal with those obstacles all on my own.
CET Enrollment #3: December, 2007
With her grandmother at peace, Felicia enrolled in CET once again, but challenges and craziness caught up with her yet again. Felicia got pregnant with her second child and dropped out of CET for a third time. The next few years were the most chaotic of her life. An emotionally taxing custody battle, hospitalizations for postpartum depression and a third pregnancy with twins - one of which didn't survive - brought Felicia to a dark and vulnerable place.
There were days when I didn't think I'd make it. Days that were so dark and so lonely, when I thought my children would be better off without me.
CET Enrollment #4: November, 2011
As a single mom of three, taking care of her kids while making ends meet consumed all of Felicia's energy and left her with few appealing choices. Exhausted, she re-enrolled at CET not because she was in the frame of mind to go to school, but because the Kentucky Cabinet told her that she needed to in order to keep her child care benefits. After a fourth ill-fated attempt at completing the medical assisting program at CET, she dropped out again.
In 2013 Felicia earned a phlebotomy certificate in the interest of the short duration of the training. Although she applied for phlebotomy jobs high and low, she wasn't able to land a job because of her perceived lack of work experience. Years of taking care of her grandparents and children while working difficult, yet dead-end jobs didn't seem to clue employers in to Felicia's work ethic and resourcefulness.
Driving in Florida in 2015, Felicia was run off the road by a semi with all three of her kids in the car but amazingly, they all survived without a scratch. This was a frightening but pivotal moment in Felicia's life; she realized in an instant that she wasn't doing what she needed to achieve her hopes and dreams. At that moment the need to finish school and reach her full potential came into full and vital view.
The only thing I have ever wanted was to be successful for me and for my children but more importantly, for my children to be proud of me, to know there isn't anything I wouldn't do for them.
In 2016, Felicia reached out to CET to see if they could help her find a phlebotomy job…or perhaps re-enroll. She felt sheepish reaching out to her former beloved medical assisting skill coach Lee-Ann after dropping out four times and worried that she wouldn't be welcomed back, so she took the "chicken" route and talked to Samantha, the admissions specialist instead. Samantha advised her that if she was serious about getting a job in the medical field she'd need to earn her medical assisting certification to give weight to her phlebotomy certificate. However, Samantha did tell Felicia that in order to re-enroll, she'd need to write a letter to Lee-Ann explaining why she wanted to come back for a fifth time and why this time would be different.
CET Enrollment #5: January, 2016
I know I can do this. I know I can, and I know that you know I can do it too. It's just one of the things I love about you. Your inability to give up on people even when they give reason to but I promise you with everything I have in me, if you give me just one more chance, you won't be sorry. Please don't give up on me.
Merry Christmas and Happy New Year.
Sincerely,
Felicia Johnson
Felicia enrolled in CET for the final time January of 2016…and then got pregnant with her fourth child. But this time she didn't drop out. This time she was going to ace this for herself and her kids; she felt them watching her. No longer was she willing to collect a welfare check. Going forward, Felicia was going to make sure that her kids saw her "bust my butt and succeed so they would have the same drive to go for what they want". She didn't have a car, so she walked in snow and rain, when she was sick and when she was well to get to class every day.
It took exactly one year for Felicia to finish her medical assisting certification; she took her last test on January 5th, 2017, exactly one year from the day she re-enrolled in CET for the fifth time on January 5th, 2016. And still not willing to let anything hold her back from achieving her hopes and dreams, she completed her four week externship at St. Elizabeth while eight months pregnant, just a few weeks shy of her due date. Even eight months pregnant, she was such a well-liked and respected extern that St. Elizabeth hospital offered her a position right away.
Felicia is awestruck at what she has accomplished and how much she has changed from the inside out: "I never thought I'd be here in this place…done with the program, done with extern, on the brink of a great career. I really didn't think I had it in me, but now I know I can do anything. CET gives you the tools to be successful, but you have to be successful within yourself first. You have to have believe you deserve it."
« See All Stories