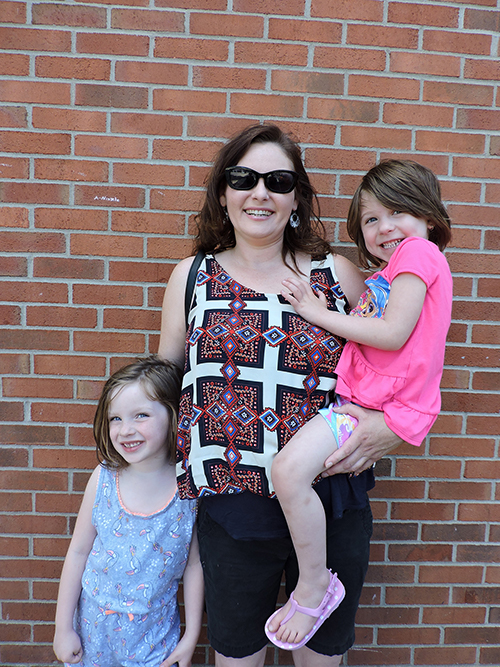 I came home to Northern Kentucky from Bardstown, Kentucky after a relationship that didn't work out. I was 39 weeks pregnant, scared, and alone. I didn't really know how I was going to parent my daughter or even if I would have the support back home.
I moved in with my mom and had my first daughter, Luna, one week later. My mother was there, but I didn't know how things were going to work out long term. I had no one else I could depend on, until Brighton Center came into my life.
A few weeks after I had Luna, Every Child Succeeds through Brighton Center called wanting to share information about support I could utilize in the community, parenting help, and developmental information for Luna. I was excited for this opportunity so I signed up right away. My Home Visitor, Jamie, came to visit me for the first time and it instantly gave me a sigh of relief. The program taught me many things about development and what to expect as a parent. It prepared my daughter and I to lead a healthy successful life.
My Home Visitor also shared with me other resources I could utilize within Brighton Center. She introduced me to the Center for Employment Training (CET), which provides individuals with a debt free education. After hearing about this service, I quickly called for an orientation date and started in April 2013.
While enrolled at CET, they linked me with services through the Family Center and I received food from the food pantry. I also sat down with a Financial Coach who helped me with credit and budget counseling. I enrolled in an incentive match program where if I saved $2,000, the program would match my savings to buy a car. I also enrolled Luna in Bright Days Child Development Center while I attended school. Bright Days was amazing because they had qualified teachers and the Center was only two blocks from my training program at CET. I was able to complete my internship with Brighton Recovery Center and graduate with a Business and Computer Technology certificate from CET in May 2014.
We completed the Every Child Succeeds program when Luna turned three. Right before that, my Home Visitor told me about the Home Instruction for Parents of Preschool Youngsters (HIPPY) program. She said this program would help me prepare Luna for kindergarten and I enrolled right when Luna turned three. My Home Visitor came weekly to share curriculum with me, gave me books, and shared needed resources. Luna is now in the 5-year-old curriculum and excelling. She is ready for kindergarten and I have the HIPPY and Every Child Succeeds programs to thank for that. I recently enrolled Luna in kindergarten, she has met her teacher, toured the school, and she is so excited to learn!
Through Brighton Center, I have also utilized the annual Holiday Drive. This helped ease my mind during the holidays knowing that my girls would receive a quality Christmas because of caring individuals in the community. I also was able to bring a holiday meal home to share with my family on Christmas.
I now have my three year old enrolled in HIPPY along with Luna. I recently put a deposit down on my own apartment and moved in April 1, 2018. Samantha, my HIPPY Home Visitor, referred me to Build A Dream, a program that builds beds for children. My girls were accepted and both received beautiful beds to sleep in at night.
I feel successful! I now have a full-time job at Citibank. I do not know what I would have done without Brighton Center. I feel empowered now that I have my own car and an amazing job. I am in full control of my life because of Brighton Center. I am truly blessed and can't thank the Center enough for this. Brighton Center is like my family!
« See All Stories