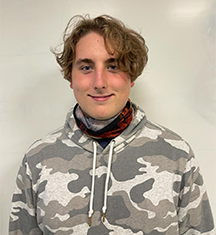 Over the last six years, one of my biggest accomplishments has been overcoming my insecurities and making new friends. As a high school senior, I still have some of the same friends that I first made in sixth grade when I joined Brighton Center's Youth Leadership Development (YLD) program.
I was introduced to Brighton Center and YLD at my middle school orientation. Before joining,
I was often picked on and felt different from everyone else, but the program helped me stop being afraid. The leadership skills I have learned helped me interact with other people my age. It helped me overcome feeling insecure and make many great friends with people who feel like family.
My favorite activities through YLD have been meeting new people each year, helping others, doing community service activities, and the field trips where we learned about career and college opportunities. Once I reached high school, I helped with YLD Clubs for the younger club members.
Brighton Center and YLD have opened up my view of the world. It has helped me believe more in myself and others. I am more confident in myself, knowing that someone believes in me, even when I am struggling.
I have used my leadership skills to guide peers through an activity or even through dealing with hard emotions. What makes Brighton Center different is how supportive staff are and that they genuinely care.
The last 18 months with the pandemic have been tough for everyone, and 2020 was especially difficult. Brighton Center and the YLD program specifically helped me use the skills I learned to push through the hard times. My little brother was able to attend YLD Club virtually, which was extremely helpful.
Brighton Center gave my family and I hope. We can always turn to Brighton Center when we are going through a hard time. I know they are always here for us when we need them. My youngest siblings are excited to join YLD when they are old enough, so it's going to run in the family!
YLD taught me to follow my heart and reach for my dreams. I want to focus on getting a good job after I graduate high school. I would love to gain experience learning how to be a mechanic, and YLD is helping me figure that out. My goal in life is to help others and help the world become a brighter place.
« See All Stories