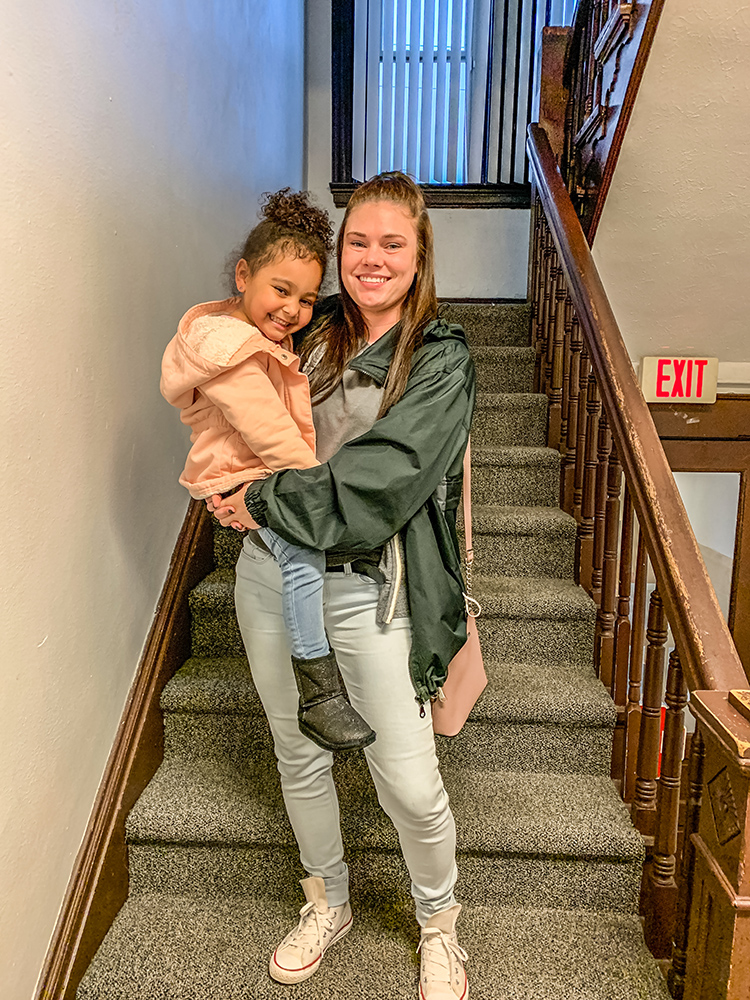 My name is Brooke, my daughter's name is Jayla, and this is our story. We moved into Northern Kentucky Scholar House in 2017 after I heard about the program from a friend who told me great things about it. My daughter was about six months old, and the school semester had just started. I was working full-time, going to school full-time, raising my daughter, and living at my mom's house, all while trying to keep my sanity. It was extremely hard.
Before the program, I was scared to go back to school, because I did not have all the help that I needed to be successful in tackling something as hard as being a full-time mom and student, along with working to pay for all of our expenses. Child care and housing were my main challenges, and Scholar House helped with both. The program offers single-parents case management, on-site child care, workshops, connection to Family Support services, and a community of people who are doing the same thing you are, which is going to school full-time and being a parent. All of these things got me where I am today.
A week after moving in, my daughter was enrolled at Early Scholars Child Development Center, which is the on-site child care. With the help of child care assistance, it was completely affordable. I was anxious and hesitant at first, because she was still so little, and I didn't have any experience with child care programs. They call it Early Scholars Child Development Center because the children are learning and developing cognitive skills and other skills that are needed on a daily basis. This program did for my daughter what I couldn't do for her during the day being a full-time student.
In the spring of 2020, I graduated with my Bachelor's Degree in Social Work, and started my career in the field.
Being associated with this program has opened so many doors for me and many others. I have gained connections through the workshops and other events held by Brighton Center. These connections helped me obtain an internship needed for my degree and find a job within my field of study. The workshops not only helped with making connections, but also helped with life skills like parenting, communication, preparing for interviews, cooking, and Financial Education. If we wanted a workshop on something specific, we would request it to be an upcoming topic.
I want to thank all the child care staff, our Case Manager, our Housing Specialist, all of the volunteers, the residents, and everyone behind the scenes. This program has made the impossible, very possible for a lot of parents who aspired to go to school, and do something more. I am one of those parents, and I really could not have done it without the help of all of those listed above.
I am extremely proud of myself, and all of the other parents who are achieving their goals. It can seem like it is impossible, I know, but the reward at the end is well worth the struggle. Northern Kentucky Scholar House has aided me in my journey to success.

« See All Stories