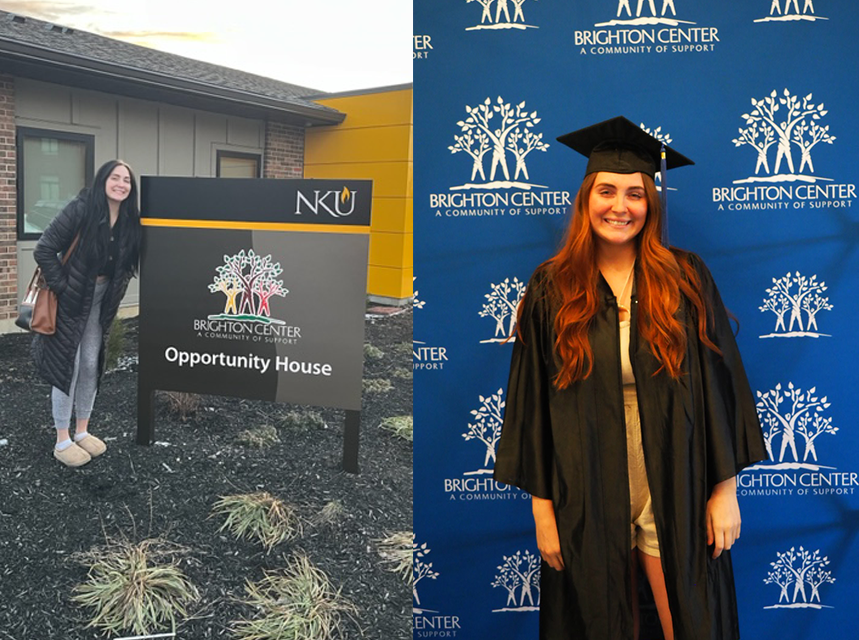 I graduated high school in 2020 at the height of the pandemic. I was homeless and staying with my best friend while taking a few years off of school. I didn't know what to do with my life, but I remembered how much Brighton Center helped me in high school during a rough time after my father passed away, and I reached back out to the staff and connected with Street Outreach. That's when I learned about Center for Employment Training (CET), and it seemed like a good fit because I was looking to further my education and get my life back on track.
Through the process of enrolling at CET, they told me I met the criteria to apply for Opportunity House because I was between 18-24 and trying to further my education. I couldn't believe it. I applied and was accepted. I finally had a place to call my own and had my own stuff.
I love that CET is a self-paced program. I started in May 2022 and finished the course in June 2023. The Career Coach at CET helped me build my resume, with job interviewing skills, and connected me to resources for interview clothes to make the best impression. I've always been interested in medicine, and I plan to continue my education with medical school. I first want to get my foot in the door and eventually go into anesthesiology.
While attending CET and living at Opportunity House, I attended life skills classes on-site. We have all learned how to cook, clean, manage our time, and manage our money. I have met with a Financial Coach through Financial Wellness, which is awesome because I never knew how to budget. If I had a penny to my name, I'd figure out how to spend it. Meeting with a Financial Coach has taught me discipline, and I was able to make a working budget. All of Brighton Center's staff are great – they are less like caseworkers and more like friends.
My dream for the future is financial stability and happiness, and hopefully, the steps I'm taking with Brighton Center will further my career. I want to save up and travel the world.
I am most proud of how far I've come. I've become much more independent in all aspects of my life, financially, personally, emotionally, and mentally. I was in a very bad spot when I started at Brighton Center, and the resources they provided gave me the strength I needed to thrive. I have faced some challenges, but the great part about that is the resources are endless. You just have to say the word, and everyone will do whatever they can to help you.
Whether it's financial issues or struggling to get clothes, food, or hygiene products, there are always answers. It's hard to ask for help, but that's another great thing about everyone here: they are easy to talk to, and it's a judgment-free zone. You just tell them what you want for your life, and they offer you resources to make it happen.
I know it's hard to ask for help, but you can't do everything on your own. I'm glad I don't have to anymore.
« See All Stories