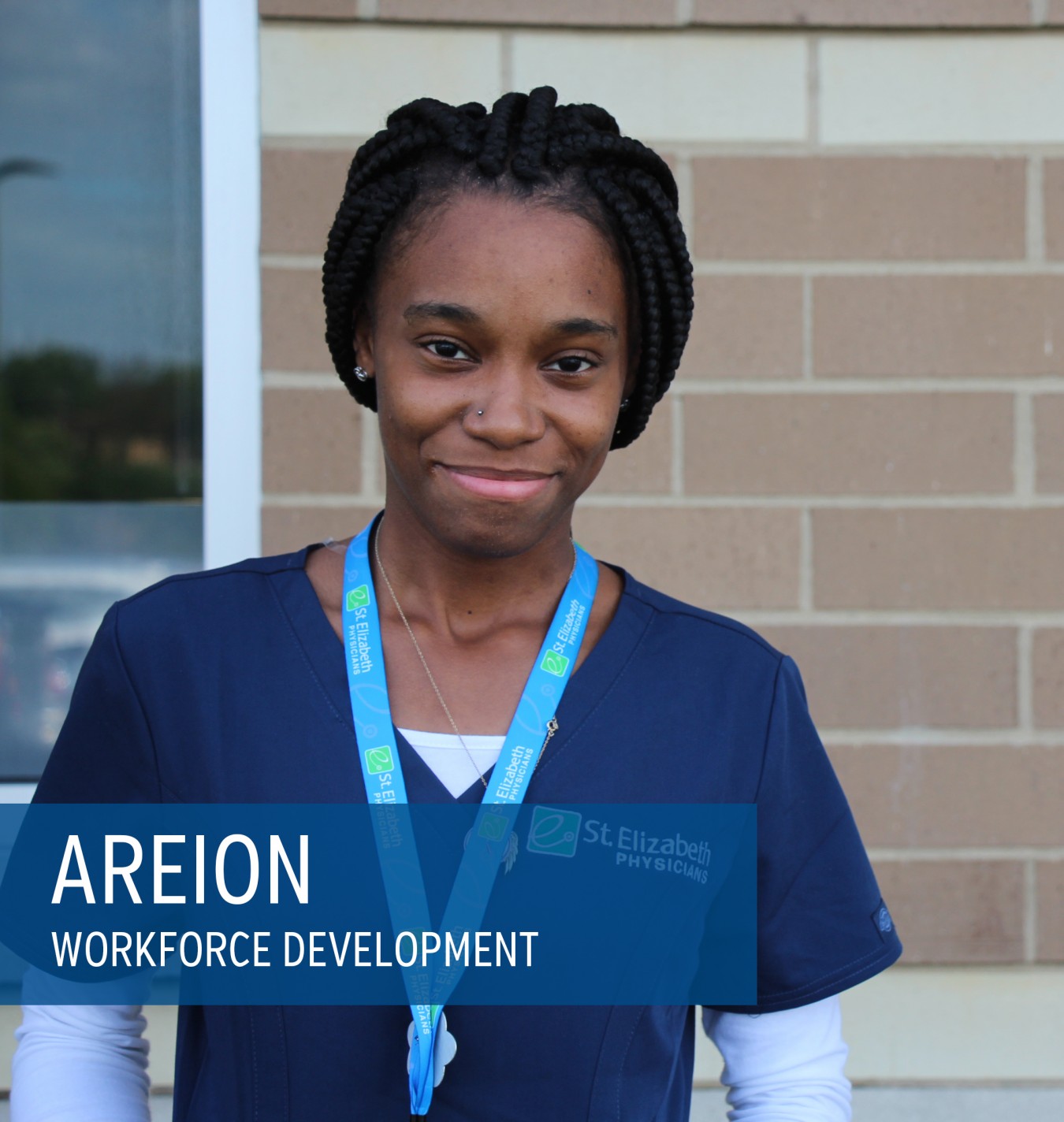 Most high school seniors are simply trying to get through school, hang out with friends, and plan their next break, but when Areion saw an opportunity knocking, she did not hesitate to grab it. While attending a low income housing meeting with her mom, Areion learned about Brighton Center's Center for Employment Training, (CET) and the debt-free training offered.
"I always knew I wanted to do something in the health field and this was a good opportunity considering I didn't have to stay the whole day at school because I had so many credits already."
Areion enrolled in CET's Medical Assisting program during the fall of her senior year. She attended high school classes in the morning and then went to CET in the afternoon all while also working her part-time job at a local fast food restaurant in the evenings.
"Balancing everything was the biggest challenge. I still had school work from high school and tests, so I wanted to make sure I stayed on track with everything and still tried to have time for myself."
Another major obstacle Areion faced was related to transportation. She relied on rides from friends and the bus to get from school to CET until saving up enough money to purchase a used car.
While attending CET, Areion was able to take advantage of additional resources available. Through Family Support, she received assistance with paying an electric bill along with food during the holidays, which helps families keep their budgets on track.
Areion completed the Medical Assisting program in just eight months while at the same time finishing her requirements for high school and graduation.
"What makes me most proud about my journey with Brighton Center is how without them I wouldn't have the job I have now or the car, or even the house because they made me want more. I learned I could do anything as long as I was driven to get it done.
I was so impressed with how everybody at Brighton Center is so loving and motivating to make you want to continue to grow and get through the program. I could always come and talk to staff about anything.
If I could send one message to others I would say as long as you stay focused and think about what you want every day, you will wake up wanting to motivate yourself. Other people can try to motivate you but if you're not motivated from within it makes it harder to want more.
The future for me now looks brighter than when I first came to Brighton Center because now I'm getting ready to go back to school to become a Registered Nurse (RN), buying my first house, and getting another car."
« See All Stories