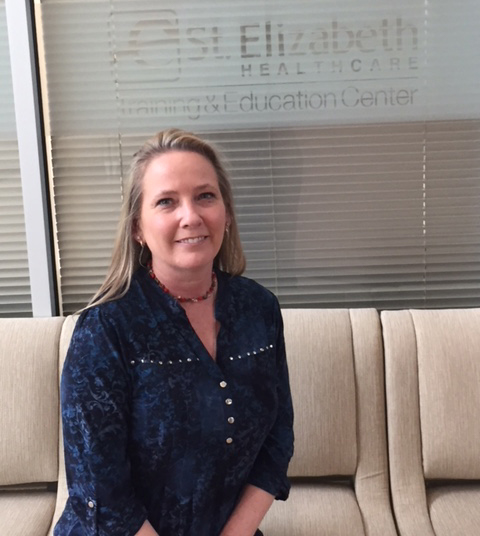 My journey started in February 2017. I was working as a dental assistant and things were going great. I got off work on Friday just like every week with the thought that I will be back on Monday. I'll never forget the Saturday morning I was getting out of the shower and my phone rang. It was the doctor that I was working for. He told me our building caught fire last night and we were closed until further notice. My first thought was if everyone is okay? He told me yes but we would have to see what the insurance company has to say about the building. Long story short, we had to close our doors and that is what put me in the unemployment line.
I went out every day looking for a job as a dental assistant. I got on the computer and put in applications everywhere, but I wasn't having any luck. I found that my skills were out of date for the current job market. I had very few computer skills which dentists now require. I had all my chair side assistance, but my office used paper charts so I never gained the technological skills I needed.
One day when I was feeling particularly down and depressed, I got a letter in the mail from the unemployment office. They requesting my presence for a meeting at the Kentucky Career Center to learn about different training opportunities and services for job seekers in the area. It was at this meeting that I met the Admissions and Outreach Specialist for Brighton Center's Center for Employment Training. She was full of energy and talked about the program enthusiastically. She told me I could get real job training in either Medical Assisting, Business and Computer Technologies, or Health Technology Administration with no student loan debt and be working in a great and rewarding job in as little as 6-12 months. I'm thinking to myself 'yeah right no debt', but I had nothing to do that afternoon so I said to myself let's go down there and just check it out.
When I arrived, she welcomed me with the same excitement she had earlier. I learned more about the program – CET is accredited by the Council on Occupational Education and is able to offer debt-free education to its trainees by leveraging grant funding to cover the cost of tuition so that trainees do not pay out of pocket or take out student loans. Our educations are funded by a variety of sources including the United Way, TANF and SNAP, Pell Grants, and the US. Department of Veteran's Affairs. I set up an appointment with Mr. Biggs, the Financial Aid Officer, and was approved to start that Monday! Still skeptical, I asked how much, he said nothing you show up do the work and graduate. I agreed and started in the Medical Assisting program in April of 2017.
The special thing about Brighton Center and CET is that they help you overcome obstacles that get in the way of your successes. All trainees at CET have access to resources such as a Family Development Specialist and Financial Coach right on site who give us the tools to overcome whatever barrier we might be facing. And I did have a few hiccups while in school. During the time I was at CET, my 18 year old son was in college. I began to worry that I would have to quit school and get a job so that I could help my son to continue going to college. Mr. Biggs overheard me talking to a friend about this situation and he pulled me aside and told me "I may not be able to help you this semester, but maybe next semester I can." He worked tirelessly for 3 months helping me find funding for my son. Mr. Biggs found that my son could go to a state school for free because of his father and myself being in the military. He found a yes when everybody else told me no. And that was not even part of his job. I few months later, I was faced with another obstacle. My mother was diagnosed with terminal cancer and again CET offered support without hesitation. My instructors Leanne, Tasha, and Jenika work with me through the cancer treatments and chemo. They understood that life happens and ensure that I was still moving forward with my studies to become an MA. They offered great tutors for spelling, computers, reading, and math and I utilized them during this time. And when you're just ready to give up they would be right behind you saying you got this, you can do this. They never made you feel less than because you were 40 something and starting over.
Finally, it was time for my clinical externship, which is the final part of a medical assistant training. I was scared because I did not know what to expect or even what specialty I wanted to go into. There was so much to choose from. My career coach Lauren helped me look at my options, goals, and interest and I settled on Primary Care. Lauren worked with St. Elizabeth Healthcare to secure an externship for me and I was accepted by the Primary Care Office in Taylor Mill. They taught me so much, everyone was accepting, nice, and treated me like I had been there forever. Fortunately, there was a job opening at the office and at the end of my externship I applied and got the job!
Just as my start date rolled around, I hit another obstacle. My mother took another turn for the worse with her cancer. The doctors told us she didn't have much time. I called St. Elizabeth to see if I could change my start date and they did just that. They were so compassionate and understanding about my situation. Mom passed away shortly after that and I am so thankful I had the opportunity to spend these last days with her.
I started my new job at St. Elizabeth just two weeks later. I cannot thank them enough for waiting for me because now I can pay my bills on time and help my children. Brighton Center, CET and St. Elizabeth Healthcare has changed my life and I don't know where I would be without them. I thank you from the bottom of my heart.
« See All Stories