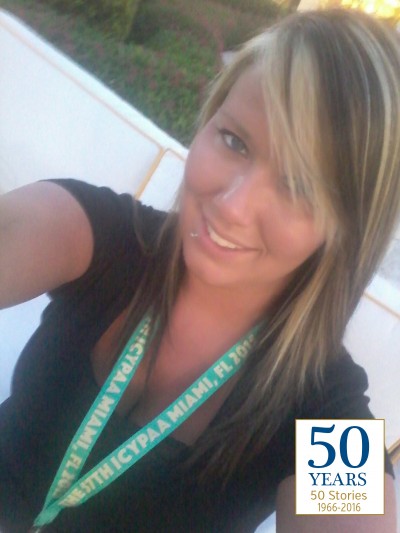 Every Morning I wake up and I have to thank God for my sobriety date of 2/19/2014.
I grew up in a small town in Ohio. Life was well for me growing up in a middle class setting with both my mother and father and no siblings. I always had friends and almost anything I wanted and everything I needed. I cheered all throughout school and maintained excellent grades even graduating with honor society success. I considered myself in my teens to be a "social drinker", along with steady marijuana usage. But that was pretty normal to me considering what most of the teens did around me.
I obtained my cosmetology license in high school and started work as soon as I graduated. Then I started college and moved out on my own with my high school sweetheart. Once I was eighteen I started to smoke marijuana heavily and my drinking escalated from weekends to week days also. I justified this behavior because I thought that was just what college kids did, I was paying my bills on time, doing school work, and showing up to work on time. My drinking got in the way of that soon enough. I dropped out of school after a summer break and working full time at my job. Now looking back I can see this is where the alcoholism started to do a number on my lifestyle (this I did not fully concede at the time).
I began to not be able to finish my shift at work without smoking marijuana and then stopping at the liquor store on my way home for my daily fifth of alcohol. My boyfriend worked a construction job where pills, mainly opiates, were heavily used and acceptable behavior. He tried them at work for a while and then brought some for me to try or he was tired of not being able to use them in front of me I still don't know why but he did. I trusted him and he seemed that he felt better after crushing them down and snorting them so I figured why not it's just a pill right? This would start my eight year run around with the very addictive opiates. I put the alcohol down mostly because I found something that made me feel better quicker.
Years went by and nothing in my life changed, everything was chaos as I went running for a drug, to get one more high. Yet again he had a new drug for me, it was heroin. Now this was a little far-fetched idea for me. I thought that I was above injecting heroin- I wasn't "that bad". The more I watched him enjoy this intense high the more jealous I became and eventually I did cave. I had no idea the ride into hell that was coming for me.
I was the prisoner and heroin was my master. I would do anything to fulfill my need and keep from the awful withdrawals. I would steal, lie, cheat, and use my body to get what I wanted. God intervened for me when I could not see a way out. It involved jail and a place called the Brighton Recovery Center for Women. This center was one the best things that could have ever happened for me. I learned about my behaviors, the diseases of alcoholism, and they introduced me to A.A. which continues to improve and save my life today.
It has been almost a year since I left the center. I could not be more grateful to the program. This was the first year in decade that I could provide a real Christmas for my family and they actually want me to be there. I am so close to my mother and father and I keep a commitment to them every Sunday and that is amazing in itself. My family has a real relationship with me today. I worked the 12 steps of A.A. and I made amends with any harm I have caused people in my life. One of those amends was to my work, and I ended up getting my job back. In the last month I have received a promotion and it just doesn't seem possible but it is. I've put in the actions and the right things have come my direction. I have found a man who treats me right and is a big supporter in my life, something else I am very thankful for and did not think I would receive in life. I have many true friends and they are amazing people with the same common cause. We have more fun than I ever had without the influence of drugs and alcohol. I am in a better place than I could ever imagine a life truly worth living. I owe it all to God, and the program.
« See All Stories