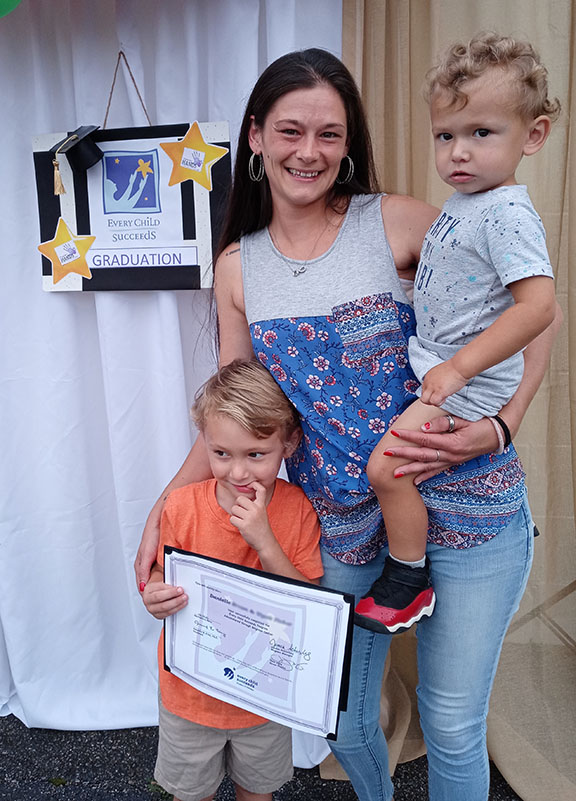 I had some health issues that would have resulted in complications if I ever got pregnant, so I figured it just wouldn't happen. And then, I found out I was pregnant, and my neighbor across the street told me about Brighton Center and the Every Child Succeeds Home Visitation program. I called while I was still pregnant and enrolled.
I ended up having Levi, my first son, six weeks early. I was a new mom with minimal experience dealing with newborns, so it was nice to be in Every Child Succeeds and have the extra support and guidance of my Home Visitor. Going from being pregnant to suddenly having a little human who didn't sleep and needed me 24/7 was a hard transition, but Brighton Center's Every Child Succeeds program helped me through it.
Everything we did activity-wise had a purpose from a developmental standpoint, which they don't teach you as a new mom. Anytime I've ever needed anything or had a question, I've always been able to reach out, and I get an answer.
It's all these little challenges that you don't call your doctor and ask, like hey, we're switching the sippy cups, how do we do this? So it was nice to have somebody to talk to about those transitions and milestones as a first-time mom. Levi graduated from Every Child Succeeds in January of 2020.
I was excited when I found out that I could do it with my youngest son, Wyatt, who was born in 2019. Wyatt was born in October, and then COVID-19 quarantine started in March of 2020.
I had saved all the activities my Home Visitor provided with Levi, so I was able to use them with Wyatt. During quarantine, we really weren't going anywhere or doing anything, so it was still nice to still meet with my Home Visitor, even though it was virtual to have their support and a connection to another adult.
I was lucky because I continued to work during COVID, and my Home Visitor would send activities and ideas to keep the kids learning in addition to our one-hour meetings each week.
Being part of Every Child Succeeds has helped my boys learn, grow, develop and be comfortable socially. I loved having the hour with our Home Visitor because it was set aside time that I was able to do activities and spend time with my kids.
As a parent, it's so easy to get caught up in everything you're doing and forget how hard you are trying and just the things that you're good at, but my Home Visitor was always supportive and reminded me that I am a good mom.
About Every Child Succeeds
Every Child Succeeds provides comprehensive home visiting services to optimize child health and development for families. Every Child Succeeds implements evidence-based home visiting models. Professional home visitors work closely with pregnant women and new mothers to develop parenting skills, improve maternal and child health, create stimulating and nurturing home environments, and connect families with other community supports. Every Child Succeeds was founded in 1999 by Cincinnati Children's Hospital Medical Center, Cincinnati/Hamilton County Community Action Agency, and the United Way of Greater Cincinnati in response to brain research showing that the first three years of life are more important than all that follow. Brighton Center serves parents in Campbell, Boone, and Grant counties.
Interested in learning more about Every Child Succeeds or enrolling? contact gpingleton@brightoncenter.com or Call (859) 491-8303 ext. 2337
« See All Stories