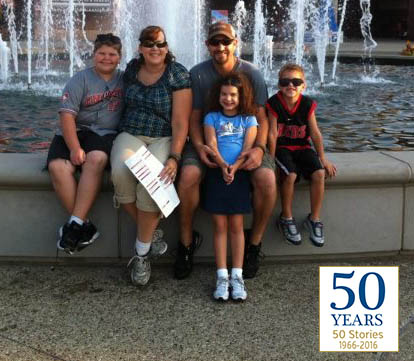 In 2005, the birth of my twins although a joyous occasion, caused me to give up a good paying job to become a stay at home mom. We had been a two income family with on children and we lived like it! Things got tight but after the credit cards had been maxed out we realized that we had to make some drastic changes. We got rid of everything from the home phone line, to the second car, and the satellite.
In 2009, my husband's brother died tragically and my husband said life was too short to be unhappy and he left the children and me on Father's day weekend. With no money, things went south quick, nothing was getting paid so the debt collectors started calling, my home was going into foreclosure, and they repossessed the minivan. As the end of the summer was approaching, we reunited to take the children to the county fair for one last family outing and met a man at a fair booth that invited us to church the next day. We went to church and it changed my husband, he asked for a marriage mulligan, quit drinking, and began repairing our family. He continued to work as a union HVAC serviceman and started ministry classes.
By August of 2012 I was interviewing 1-2 times per week for various positions and my husband had just made Journeyman. We were going to make it. Then in September, everything spiraled. Out truck was having issues, the roof was in desperate need of repair, and my daughter ended up at the ER with a blood infection, resulting in needing IV antibiotics, surgery, and a week's stay at Children's. My last hope for a job had called saying they choose someone more qualified and 30 minutes later my husband called saying he was laid off. September, October, and November passed, our cupboards were bare, and despite losing everything, we kept smiling saying "we're okay, everything is fine."
December came and we had nothing, someone said call Brighton Center. I met with staff and then the hope began. Through Emergency Assistance, I was given $50 towards my utility bill, a voucher for clothing, food from the food pantry, and information about the Center for Employment Training so that I could go back to school without going into debt.
Brighton Center has impacted our lives by not only giving me a marketable skill but life skills classes along the way. My life has changed since coming to Brighton Center. When I arrived on the doorstep I was filled with fear that we would not survive the storm. Now I have hope for our future. We still have problems and issues but they no longer seem like mountains blocking our path, but instead bumps that will slow us down for a moment and then we continue on. I have achieved so much since coming to Brighton Center. I now have a toolbox of resources and knowledge. My hopes and dreams that I didn't think were possible before are so close that I can almost reach out and touch them. I have gone from being an unmarketable stay at home mother of three, to a women pursuing a career in the medical field as a Registered Medical Assistant. Brighton Center has been my HOPE!
« See All Stories