Senior Medicare Patrol
The Senior Medicare Patrol (SMP) program empowers seniors through increased awareness and understanding of Medicare programs. The program provides free unbiased and up-to-date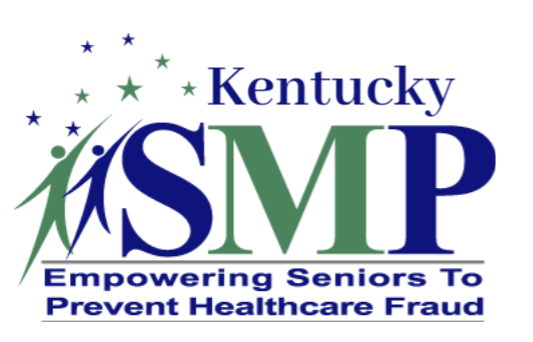 health insurance information, counseling, and assistance to Medicare beneficiaries of all ages and their caregivers.
This know
ledge helps seniors protect themselves from the economic and health-related consequences of Medicare and Medicaid fraud, error, and abuse. SMP projects also work to resolve
beneficiary complaints of potential fraud in partnership with state and national fraud control/consumer protection entities including Medicare contractors and state Medicaid fraud control units.
SMP workshops are available, if you're interested in having the KY SMP present at your location please contact Katie Deno.
Why We Do It
The activities of the SMP program serve to enhance the financial, emotional, physical, and mental well-being of older adults – thereby increasing their capacity to maintain security and independence in retirement, and to make better financial and healthcare choices.
Become a SMP Volunteer
SMP projects match a volunteer's skills and interests to the needs of the program. As a result, SMP volunteers may serve Medicare beneficiaries, their families, and caregivers in many creative ways. However, there are four types of activities most commonly conducted by SMP volunteers nationwide:
Assist with administration: Help with work such as copying, filing, data entry, and placing outbound phone calls in support of SMP activity
Distribute information: Help with transporting and disseminating SMP information materials to sites and events; may include presenting prepared copy or performing scripted activities for small groups
Staff exhibits: Help by staffing information kiosks or exhibits at events such as health fairs; also may provide general information about SMP to the public and answer basic questions
Make group presentations: Help by giving presentations on SMP topics to small and large groups; may interact with the audience by answering questions and through discussion