Lending Circles - Credit Building Loan
What is it?
Lending Circles is micro-loan program providing participants with a zero-interest loan to help build credit.
How Does It Work?
A group of people form a "Circle" and lend money to one another with all proceeds to be paid out in a specified time. A Circle must meet these requirements:
Have seven to twelve in a group
Decide on the amount of the loan
Determine what order each person receives his loan
Attend an initial orientation where the above decisions are made
Participate in Financial Education. The options are a Two Cents workshop or complete 5 online modules (out of 20)
Who is Eligible?
Must be 18 years old
There is no minimum income requirement
The maximum Income must be at or below 80% of Area Median Income (see chart below)
Must have personal e-mail account (not shared)
Need a photo ID + SSN or ITIN Government issued. (Not U.S. citizen is ok or unexpired consular ID is ok)
Must have a checking account for auto withdrawals (not savings account)
Debt to income must be under 50%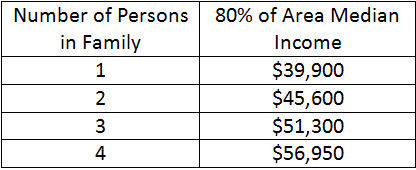 How much will I get?
The monthly loan payment can be between $50 to $200 per month (in increments of 50), so the amount of the loan will be dependent on the amount and the number of participants.
How will my credit improve?
The loan will be reported to the three major credit bureaus each month instead of the standard once per quarter.
What documents do I need?
Proof of income
Two full month's pay stubs
Debt to income ratio<50%
How long is the commitment?
Each Lending Circles group cycle lasts no longer than one year depending on the number of participants in the circle to have a positive impact on participants' credit score and to reinforce consistent savings habits.
​
Why We Do It