Workforce Development
Gaining employment with a livable wage and benefits that provides career advancement opportunities is often one of the most challenging issues faced by individuals and families working toward self-sufficiency. Workforce Development services focus on providing access to debt-free training and helping people obtain credentials in demand industry sectors offering a career pathway.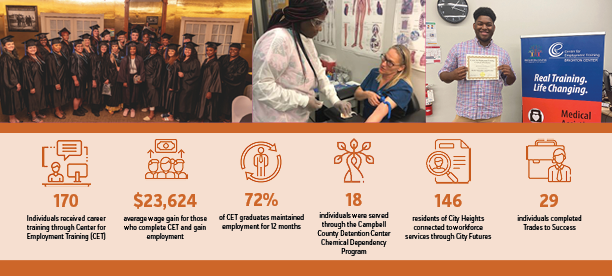 Center for Employment Training (CET)
CET offers adults life-changing skills to help them find good jobs with a livable wage and build a successful future. Instruction is hands-on, practical, and personal, designed to get people working as quickly as possible to begin their path to a promising future. CET is accredited by the Council on Occupational Education and provides competency-based skill specific training in Medical Assisting, Health Technology Administration, and Human Resources and Payroll Specialist.
Trades to Success
Trades to Success is a 3-week pre-apprenticeship program created to help customers find a trade career they love. Participants explore trade and apprenticeship careers, job training, and post-secondary education opportunities. Participants explore careers and industries such as: electrician, line worker, construction, Commercial Driver's License, supply chain and logistics, and many more.
Campbell County Detention Center Chemical Dependency Program
The Chemical Dependency Program is designed for women who are at the Campbell County Detention Center and uses trauma informed care and gender specific responsive practices during a six month in-patient treatment model while incarcerated. The treatment is followed by 24 months of supportive care and access to resources. A special emphasis is placed on job readiness and employment aligned with our workforce development continuum.
City Futures
City Futures is a workforce development program connecting the residents of the City Heights neighborhood in Covington with quality employment services including career coaching, job readiness workshops, job training programs, resume services, and funding for occupational training services in high demand sectors. Participants of City Futures also receive financial coaching and family support services. The program is a partnership between Brighton Center and the Housing Authority of Covington.
The goal is to align employer workforce needs with a skilled and qualified workforce by providing quality employment opportunities and training services. Brighton Center is the operator of the Kentucky Career Center - Northern Kentucky and contracted provider for the Northern Kentucky Workforce Investment Board for the Workforce Innovation and Opportunity Act. We provide direct services through career coaching, engaging with regional employers, and advocating for our job seekers to ensure a better life for themselves and their families.

Kentucky Career Center Operator
The Kentucky Career Center Operator coordinates the delivery of services between partners at Kentucky Career Center locations in Covington, CVG Airport, Florence, Carrollton, and Williamstown. Kentucky Career Center fosters a culture of collaboration and excellent customer service among Career Center partners that promotes the delivery of innovative, high quality workforce development services.
Business Services
Business Services assists employers with unique and individual workforce needs. From employee retention support and training programs to talent recruitment and other workforce services, Business Services focuses on connecting qualified employees to employers.
Lift Up
Lift Up is a collaborative regional project with St. Elizabeth Healthcare which boasts a No Wrong Door Model that is designed to funnel those receiving treatment into employment opportunities.
Talent Development Services
Talent Development Services prepare job seekers for the demands of the workforce. Individuals have access to career coaching and workshops covering resume writing, job search skills, and networking skills. Job seekers are also connected to job training opportunities through local Workforce Innovation and Opportunity Act funding.
Youth Talent Development Services
Youth Talent Development Services prepares youth (16-24) for the demands of the workforce. Individuals receive career coaching, access to workshops, internship opportunities, and funding for job training programs through local Workforce Innovation and Opportunity Act funding. Career coaching covers the technical aspects of job searching and interviewing skills, mock interviews, on-the-job training, perception in the workplace, and applied writing and verbal skills.

Why We Do It
Low-wage jobs can push even full-time workers into poverty, and the real value of the minimum wage is lower today than it was 25 years ago. Of the ten most common occupations in the United States, only two pay a living wage. Workforce development programs designed to help individuals gain the skills and opportunities needed to secure work and family-supporting wages can be transformative. Parents with stable, well-paying jobs have more resources to invest in their children and their lifelong success.
Source: The Annie E. Casey Foundation