Early Childhood Education
Every child deserves access to high-quality educational experiences that ensure they are on track for success in school. However, many families struggle to afford quality care. We support children in reaching important developmental milestones from birth through the start of kindergarten and beyond. To do this, we create a partnership with parents to provide the support they need in being their child's first and most important teacher. Together, children and their parents are able to focus on life-long learning.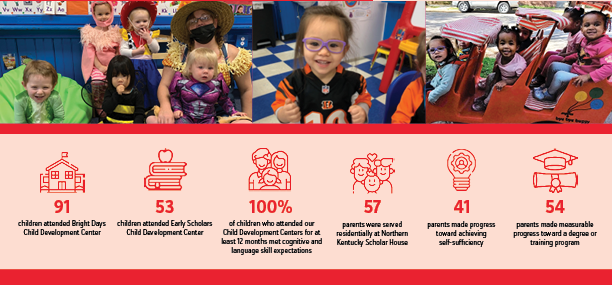 Northern Kentucky Scholar House
Northern Kentucky Scholar House is part of a comprehensive statewide, two-generation self-sufficiency program that provides affordable housing, child development services, and case management support. Priority is given to single-parent families as they pursue a degree in higher education. Northern Kentucky Scholar House is a partnership between Brighton Center and Neighborhood Foundations. The 48 apartments and Early Scholars Child Development Center are located in the West Side of Newport, KY. Early Scholars Child Development Center's convenient on-site location eliminates many barriers parents often face in getting their children and themselves to school. Monthly workshops are also offered based on topics suggested by residents. Resident voice is also gathered through a resident council, which fosters a sense of community among parents.
Bright Days and Early Scholars Child Development Centers
Bright Days, located in the historic East Side neighborhood of Newport, is a nationally accredited, 4 STAR Rated quality child care center. Early Scholars Child Development Center, located in the West Side neighborhood of Newport on-site at Northern Kentucky Scholar House, is a 5 Star Rated quality child development center. At both Bright Days and Early Scholars children receive individualized classroom instruction to prepare them for success in school. Emphasis is on the quality of interactions among staff and children. The Centers utilize developmentally appropriate, research-based curriculum, high standards of health and safety practices, highly qualified staff, and provide an enriching learning and physical environment with nutritious meals, individualized classroom instruction, and parent involvement activities.
We partner with families and other providers to assist with family support services, family stabilization services, and child and parenting development programs. Family Well-Being programs are designed to work with families, assisting them in identifying and achieving their hopes and dreams related to economic self-sufficiency and family and community matters that are important to them. Family Well-Being works in collaboration with regional safety net partners, early childhood education organizations, and parenting programs to provide optimal services to the community.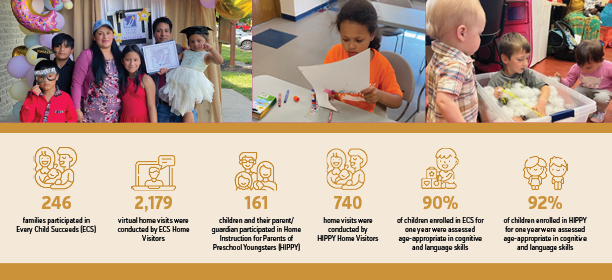 Every Child Succeeds (ECS)
ECS provides in-home parenting education and support for new moms, dads, and babies in Campbell, Boone, Grant, and Kenton Counties. Home Visitors meet with families weekly and focus on healthy pregnancy outcomes, optimizing child development, and growing strong families. Through
hands-on activities, curriculum discussion, family/child groups, and a strength-based approach, families can increase the emotional bond
between parent and child, build parental confidence, and enhance
family self-sufficiency.
Home Instruction for Parents of Preschool Youngsters (HIPPY)
HIPPY provides home visitation services for Boone, Campbell, and Kenton County families with children ages 2-5 that focus on helping parents prepare their preschool children for success in school. Home Visitors help parents mingle learning and play as a part of the curriculum.
Community Well-Being
A five-year Demonstration grant from the Health and Human Services' Administration for Children and Families for the Community Well-Being project works with key partners to develop a comprehensive community, child, and family well-being system. At the systems level, parents and youth are engaged as partners to understand their journey better, define well-being, enhance communication efforts (including technology), and provide robust training for both the community and system partners. Families also receive concrete resources and direct services from the primary prevention system to meet their needs.
Safety Net Alliance of Northern Kentucky
Safety Net Alliance of Northern Kentucky was established to increase the efficiency and effectiveness of safety net services provided to Northern Kentucky residents in need. This collaborative of over 150 partners includes large and small nonprofits, faith-based organizations, public agencies, educational institutions, and funders.
Why We Do It
Early childhood programs are a critical outlet for fostering the mental and physical development of young children. High-quality early childhood programs can increase earning potential and encourage and support educational attainment. Early childhood development and education programs can also help reduce educational gaps. The developmental and educational opportunities that children have access to in their early years have a lasting impact on their health as adults.
Source: Health.Gov/Healthy People 2030