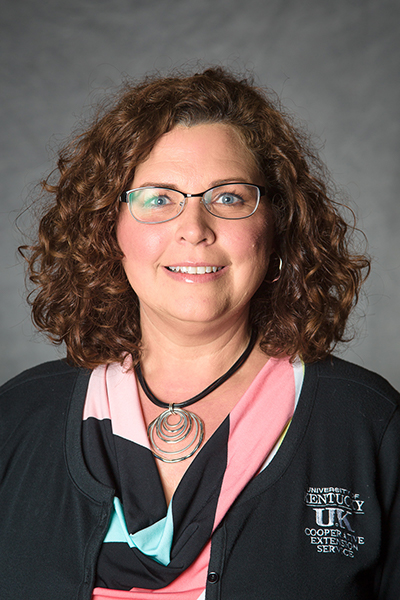 In honor of Volunteer Appreciation Month, meet Melissa Pilcher, Nutrition Education Assistant through University of Kentucky's Nutrition Education Program.
"I have been employed through the University of Kentucky as Nutrition Education Assistant since 2014. My previously connection to the Safety Net Alliance led me to Brighton Center and the services they have to offer in the Northern Kentucky area. When declaring the agency and programs I wanted to work with, Brighton Center became an easy choice as a community partner.
Throughout Brighton Center, I teach nutrition classes at Saratoga and Two Rivers Senior Apartments, Youth Leadership Development, Center for Employment Training, Bright days, families at the Family Center, at the Ann Street gardens, and with the AmeriCorps NCCC members. The classes I provide are called Healthy Choices for Everybody and the 7 part series focuses on everything from how to plan a menu and budget for food to knowing the difference between fats, how to count calories, and what portion of your meal should be fruits and veggies.
Providing these classes to the community and helping individuals better themselves and improve their circumstances is so important to me. Brighton Center's mission is to create opportunities for individuals and families to reach self-sufficiency. And isn't that what we all want, to be able to stand on our own two feet and to take care of ourselves and our families to the best of our ability? Through good nutrition, we have the ability to be our best selves physically, which prepares us to take on the areas in our lives where there's work to be done. I am able to share that knowledge with those whom I serve at Brighton Center, from the preschoolers who try new fruits and vegetables to teens and young adults who have never learned what good nutrition is or how to cook a simple meal. And even the seniors who no longer cook for themselves and choose to eat prepackaged meals, thinking it's not worth the time and effort. There is a connection between good food and good health and I love that I get to share that message with those that I encounter at Brighton Center."
The Kentucky Nutrition Education Programs (KYNEP) encompass two separate USDA programs: The Expanded Food and Nutrition Education Program (EFNEP), and the Supplemental Nutrition Assistance Program (SNAP-Ed). Both programs are administered by the University of Kentucky Cooperative Extension Service, an equal opportunity university, and target low-income families and individuals with nutrition education. The goals of both are to educate limited resource families with young children and SNAP Benefit (previously Food Stamp) clientele to plan nutritious meals on a limited budget, acquire safe food handling practices, improve food preparation skills and change behavior necessary to have a healthy lifestyle.
If you are interested in learning more about this FREE program, please contact Melissa Pilcher at Campbell County Extension Service at 859-586-6101 ext. 405.
« See All Stories