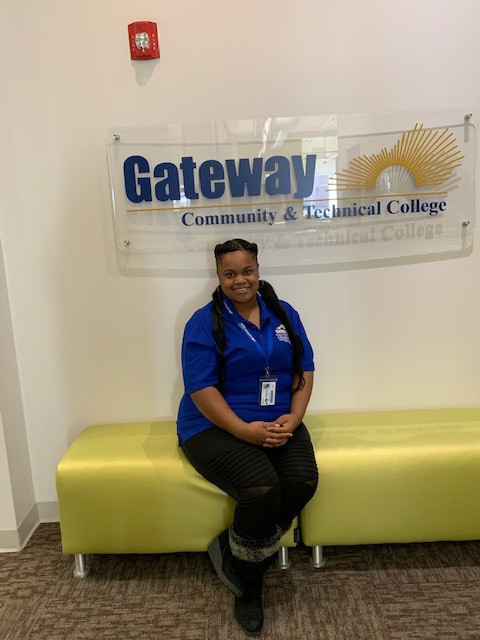 Megan:
Before coming to Brighton Center I was living in Kansas City, where I struggled in life, running from my problems and listening to peers' advice who were struggling themselves. My grandmother had recently moved to Cincinnati and wanted to help my son and I. She encouraged me to move and obtain my GED - which I did in three months through the help of the YWCA.
My first interaction with Brighton Center was shortly after moving to Northern Kentucky from Kansas City with one child and another on the way. Feeling very alone and in "last place," I had fallen behind on my rent. I reached out to Brighton Center and met with a Resource Advocate, Amy Thornton. I remember being so scared walking in those doors, but Amy looked me in the eyes and said, "Do you really think this is it for you?" I immediately felt a weight lifted off of me and even though the immediate crisis was not fixed, her words lifted my spirit and ultimately changed my life.
Through Amy's encouragement, I was accepted into Northern Kentucky Scholar House and was awarded a $10,000 scholarship from the Greater Cincinnati Foundation, as well as grants and awards from other agencies, so I could attend Gateway Community & Technical College. Because of Brighton Center and other agencies, I am now a Social Work major and am proud to say I have 4.0 GPA. I expect to graduate in the fall of 2020 with my associate's degree and then I will be pursuing my bachelor's degree in Social Work at Northern Kentucky University.
I am feeling stable and learning the importance of good credit and managing my income so I can support my two children - Travon, who is 9 and Tadin, who is 3. I am so proud of these boys. Travon is often seen at Scholar House offering to help moms carry in their groceries or sticking up for friends who may be feeling bullied at school. Tadin is doing well at Bright Days Child Development Center, another wonderful Brighton Center program. I am also able to give back, most recently sharing my story at a United Way kick-off event at Procter & Gamble. I also volunteer at Northern Kentucky Community Action Commission.
If I could send one message to others I would say, don't be afraid of help, be afraid of NOT asking for help. Waiting to figure it out may not always work, but reaching out to Brighton Center will open doors you don't expect, and will help you get further than you would ever imagine.
I realize now that feeling in "last place" had value because my children and our future came first.
« See All Stories