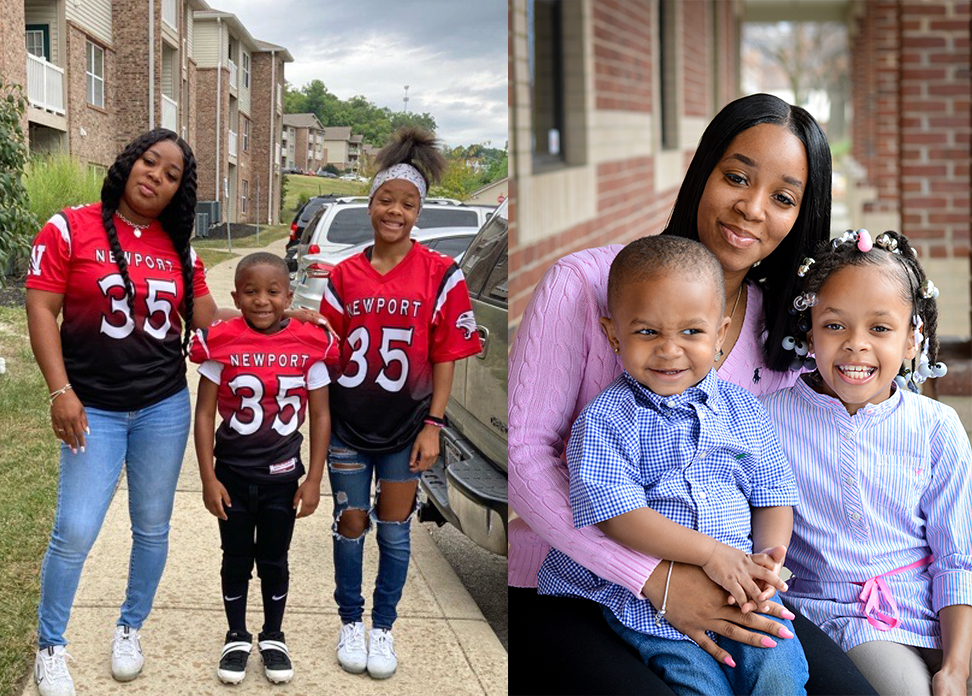 My kids and I are proud graduates of Northern Kentucky Scholar House and Early Scholars Child Development Center!
I first became involved in Brighton Center when I moved into Northern Kentucky Scholar House shortly after it opened. I was homeless with two kids, moving from house to house with no car, working at a daycare, but still unable to make ends meet.
After we moved into Scholar House, I began going to school for my Associates Degree in Early Childhood Education, while my daughter attended Newport Intermediate as a 3rd grader and my son who was 9 months at the time, attended Early Scholars Child Development Center, which is located on-site at Northern Kentucky Scholar House.
Having a brand new apartment in a safe, supportive community with an on-site child development center, allowed me to focus on my education and goals for the future.
We began to get very comfortable with the program and everyone was so nice and helpful. I enrolled in the Family Self-Sufficiency program through Neighborhood Foundations to start saving for my future. I also started meeting with a Financial Coach, and was able to receive additional supportive services including access to food, clothing, and assistance during the holidays. I also started volunteering to help at different Brighton Center events and at the Family Center as a way to give back.
I was also able to connect my daughter to after-school programming at Brighton Center. where she learned valuable leadership skills, participated in community service projects, and went on field trips to learn about career and college opportunities.
At Early Scholars Child Development Center, my son was able to develop and grow in a supportive, educationally focused environment with children who were also our neighbors. He attended from the time he was a baby through graduating pre-K and was ready to attend kindergarten.
With the support Brighton Center provides, I have overcome every single barrier to achieving my goals. I don't know where I would be if I didn't move into Northern Kentucky Scholar House and become part of Brighton Center's family.
I graduated in November 2020 (during the pandemic) and that itself was really tough, but I made it through. The staff never gave up on me, they were there every step of the way pushing me and encouraging me to finish strong.
In February of 2021, I accepted a full-time position as a Hunger Relief AmeriCorps VISTA where I help people like myself start their journey down a great path in life. My daughter is now 13 attending Newport High school as an 8th grader, cheering for the varsity cheer squad. My son is now six years old, attending Newport Primary School in 1st grade, and enjoying playing football. Both of my children are doing great.
I want to thank everyone that has helped me and my family along the way to be successful.
« See All Stories