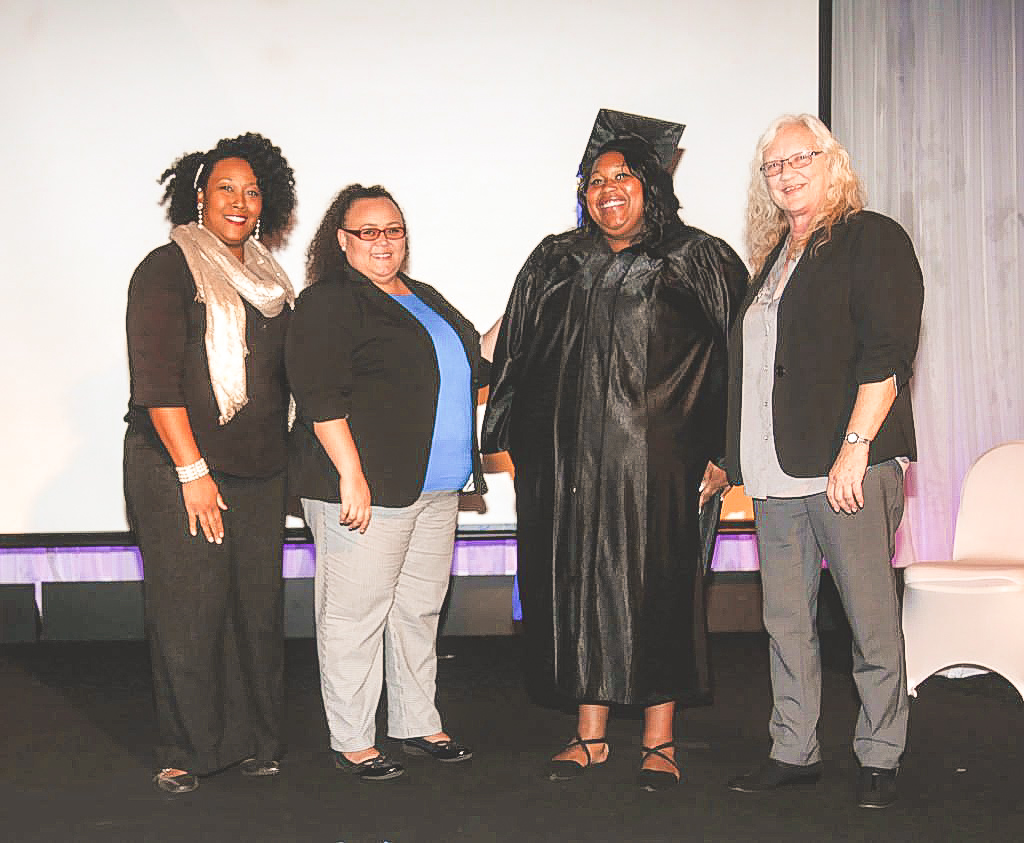 When asked for one word to describe herself, Aurora Butler did not hesitate. "Adaptable," she said. "I am always able to adapt to my situation and make it work for me. Although being the sole provider for three children is difficult, I knew I could not give up."
Aurora:My experience with Brighton Center began over two years ago. The community of City Heights was hosting a job fair. As a resident of City Heights, I decided to attend the event with a friend. At the job fair, I met a representative from Brighton Center's Center for Employment Training (CET). The following week, I attended an info session and enrolled shortly after in the Medical Assisting skill division. CET deserves all the credit for providing the foundation I needed to be successful.
After graduation, I was hired as a medical assistant at The Christ Hospital in Cincinnati. I don't own a vehicle and rely on public transportation. Despite the almost hour and a half daily commute each way, I was able to maintain employment at The Christ Hospital for close to a year. In late March 2019, my day care provider could no longer provide coverage after 6:00 p.m. With the length of my commute, it was impossible to maintain my position at The Christ Hospital and be back in time to pick up the kids from day care. This left me with no other choice but to resign.
After resigning from my position, I was feeling depressed. I reached out to my Career Coach at CET who set up an appointment at the City Futures office in City Heights. The Career Coach and Career Developer with the City Futures program helped update my resume and initiate a job search. I began to volunteer daily at the City Futures office and am now serving as a Community Coach working with residents on their career pathway. Finally, the call I had been waiting for finally came. St. Elizabeth Healthcare wanted me to come in for an interview.
I worked with the City Futures Career Developer to get ready for the interview through mock interviews to help prepare for the big day. I was connected to Dress for Success for appropriate professional clothing. I was nervous, but feeling confident. I knew I had what it took to be successful. Then came the good news, I got my dream job!
Adaptability and a belief in herself. Those were the keys to opening up a whole new future for Aurora. When learning of her new career at St. Elizabeth, Aurora felt that she had "overcome the impossible." She had wanted to work at St. Elizabeth since she interned there in 2017. After her internship, St. Elizabeth did not have any openings and Aurora took the position at The Christ Hospital. Over the past two years, she applied for a number of positions but had been unable to break through. Aurora kept pushing, never giving up on her dream. Today, she has accomplished her goal and is ready to begin working on her next one. She is working with a financial coach through the City Futures program and her next goal is to purchase a car and eventually a home.
Aurora continues to serve as a mentor and role model for her community. She participates in programs and events sponsored by the City Futures program and encourages her friends and neighbors to do the same. Aurora knows that her story is a story of empowerment. She readily shares it to offer hope to others and to let them know dreams really can come true.
« See All Stories