Housing & Financial Services
Helping families achieve economic stability, obtain housing that is affordable, and build assets for the future makes our community a thriving place. The path to financial stability often starts with stable housing, an education, a career, and managing finances. Too often the reality is that an unexpected curve on that path can send a family into a downward spiral very quickly. We work with families based on their goals for the future. Those we serve learn to take charge of their hard-earned money by making informed decisions and planning for the future with the support of Certified Financial Coaches who guide them through the process of achieving financial security.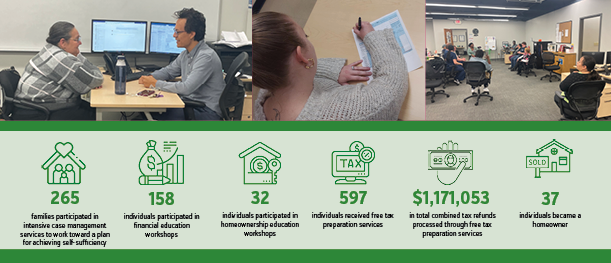 Stable Families
Stable Families is an 18-24 month intensive program that serves families with children in grades K-3 who are at imminent risk of homelessness to stabilize their housing situation. The goal is for parents to maintain housing while children maintain school stability.
Rapid ReHousing
Rapid ReHousing is a 12 month program that works with individuals experiencing homelessness to connect them with quality, affordable housing, and wraparound support services including case management.
Financial Education & Coaching
Financial Education occurs through free workshops covering budgeting, banking, how credit works, credit reviews, and preparing for major purchases. During one-on-one coaching sessions, individuals develop a personal budget, learn money management techniques, run a credit evaluation, and receive help to establish checking or savings accounts.
Homeownership Education & Coaching
Homeownership workshops cover each step of the home buying process from budgeting to closing. One-on-one sessions help home buyers develop an action plan outlining the steps necessary to reach their goal of homeownership. Follow-up counseling is also provided to home buyers.
Foreclosure Prevention
Foreclosure Prevention assistance is provided to support homeowners in navigating the foreclosure process by intervening with lenders and attorneys, and applying for any available assistance to mitigate housing disruptions.
Asset Building Tools
Asset building tools and resources are available to individuals interested in building credit.
Volunteer Income Tax Assistance (VITA)
VITA is a free tax assistance program that is offered every Saturday from the end of January to the middle of April. Individuals can have their taxes completed for free and filed electronically by IRS certified volunteers.
Why We Do It
Households are considered to be cost-burdened if they spend more than 30 percent of their income on housing and severely cost burdened if they spend more than 50 percent of their income on housing. Cost-burdened households have little left over each month to spend on other necessities such as food, clothing, utilities, and health care.
Source: Health.Gov/Healthy People 2030